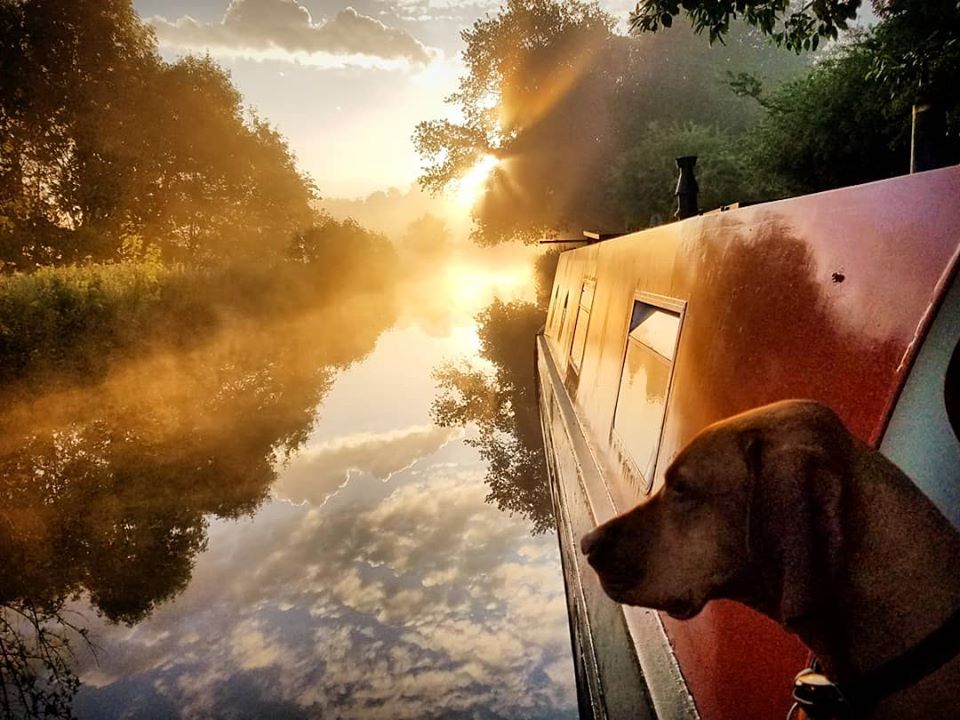 10.30am Psychedelic maps.
I was enjoying a Digestive and a pint of sweet Rooibos tea after having made up a healthy pile of  Larkspur 'Imperials' seed packets, when a multi-coloured, beast of a narrowboat came chugging past the galley window. I recognised the boat immediately. Casper and Mayfly (Name changed to protect the guilty) were moored up close to each other for a couple of weeks during the first winter I was living aboard. I remember we were on the Oxford canal close to a village called Napton. I would often pass Baz, the chap who lived aboard Mayfly, on the towpath. He would be found with furrowed brow, burning papers, and generally looking sad and frazzled. He wasn't one for chats or even eye contact but he took a shine to Flash and they would make a fuss of each other as we went by on our walks. It was clear to me that Baz wasn't in the best of sorts.
One morning as we pottered past Mayfly, Baz was burning papers in his metal incinerator. I made a comment about how splendid Mayfly was looking and that he must be proud to be Captain of such a vessel as she. He looked up and gave me the briefest of smiles before looking back at his fire. Later that afternoon there was a knock on the roof of the boat. I stuck my head out of the sliding hatch at the stern, and there was Baz.
"I wanted to give you this…" he said, handing me a sheet of paper folded in two. I opened it up and it was a hand-drawn map of the localality. "It's to say thank you for what you said about Mayfly." The map clearly showed the canal and some footpaths across the sheep fields. At four points on the map there were four crosses marked with the symbol of a mushroom next to them. "These are the best magic mushroom sites in Warwickshire….don't tell no one else." …and with that he threw me another of his quick smiles and he was off trotting back to Mayfly and the comfort of his fire.
Now, I haven't been interested in magic mushrooms since the heady days of art school back in the mid '90s but I was full of gratitude for Baz's gift. These sites were clearly important to him and he'd spent time drawing the map for me and more importantly he had left his comfort zone to come over and engage with another human. It was a reminder to me of how the smallest kindness, like an off-the-cuff comment, can really boost the folk who need it the most.
As Mayfly came past this morning I looked out to see if it was Baz at the tiller and sure enough it was. Casper has been repainted since back then and I didn't think Baz would recognise me. Baz was looking well. He had put on weight, he was clean shaven, clean clothed, and generally had the air of a buoyant individual in good spirits. Boaters usually wave to one another as they pass and Baz did just that…with a big smile and a big, "Ahoy there!" and as they disappeared down the waterway on their adventures I saw a shape on the stern deck next to his feet…a young and  beautiful, bright-eyed Spaniel. Well done Mayfly and crew, upwards and onwards to infinity and beyond!
Please, please, please…if you can afford it, can you bung a bit of cash into our Just Giving page.