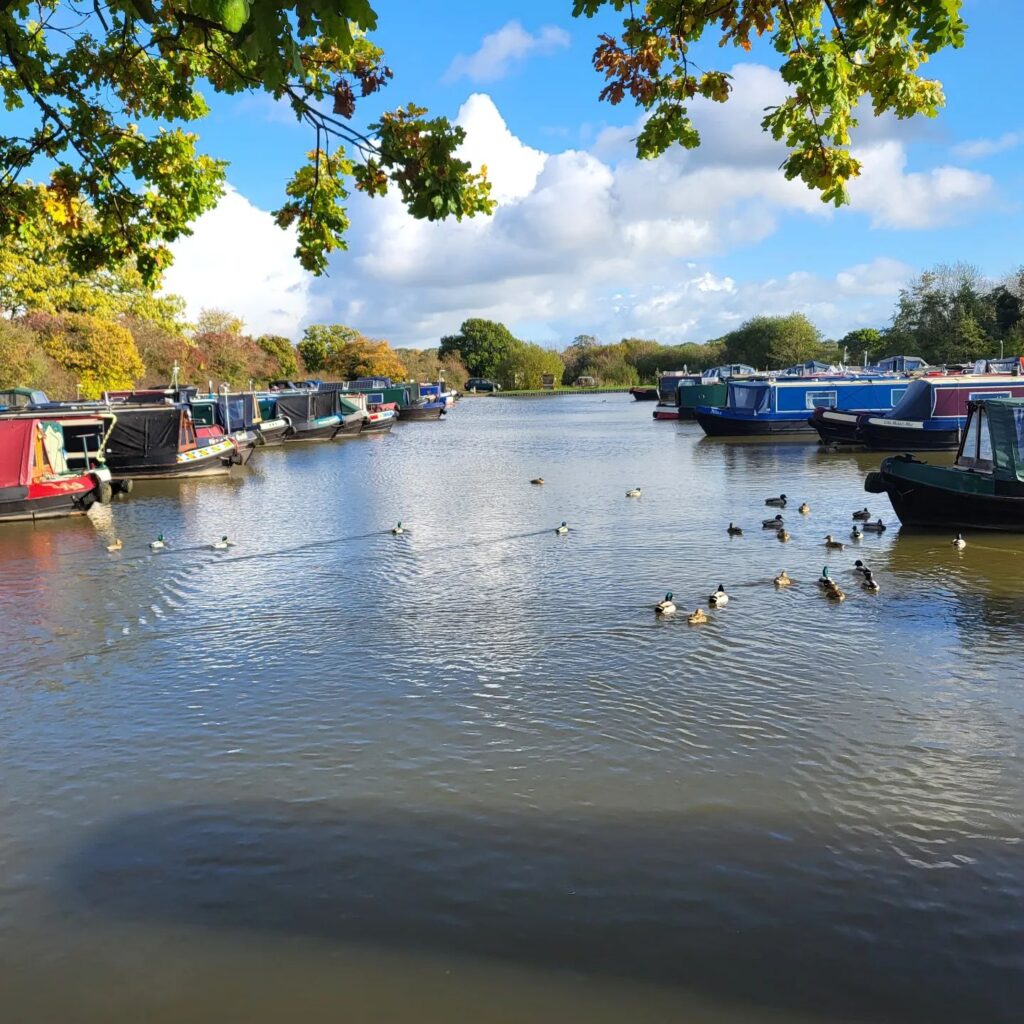 11am Marina.
After a morning breaking my back in the seed mines, it was time for a boaty adventure. Casper was running low on fuel and fresh water, so we fired up the engine and chugged off to find a marina. Whixhall Marina was the closest by a long chalk….and they have a cafe where a chap can buy toasted sarnies and chips to help prop up the local business and warm his belly. When we got to the marina the wind had picked up. Narrowboats can be like sails, and manoeuvring becomes tricky, especially when one is surrounded by posh shiny boats. As we approached the wharf I had to swing Casper around a full 180 degrees which might mean a three-point turn. I should point out at this juncture that narrowboats don't have any steering in reverse, Casper seems to go wherever he likes when we're going backwards…he can really get expressive. I turned hard to port and the wind caught the stern swinging us around considerably faster than I had anticipated…the wharf was getting much closer much faster than my calculations had allowed and it seemed a collision was inevitable. Smashing into the wharf would have made me very unpopular with the marina manager and would have done nothing for my towpath credibility. I braced myself for impact, but Zepher (Is he the God of the wind?) had my back….a powerful gust caught Casper straight on the starboard side and stopped him dead in his tracks, we kissed the platform like salty old sea dogs. I stepped off the stern onto the wharf like Sinbad back from his adventures on the seven seas, half expecting rousing applause and crowds of women throwing their underwear at me and blokes wanting to buy me a pint….but nothing…not even a 'well done mate….nice one!' Why is it that when you cock up in a car or a boat there are a dozen people watching but when you pull a fine move out of the bag, it goes unnoticed? Life is so unfair.
Red diesel seems to have doubled in price. Casper's tank cost me nearly £300 to fill. He was a thirsty bunny. On the upside, this will last us a year or more. The lass who runs the office is a fellow cut flower grower, so we swapped stories about this year's growing season. She has had a late flush of flowers like many folk have. I gave her some packets of seeds
The pitstop continued with a full tank of fresh water, some sacks of kindling and firewood, and I also got a couple of loads of laundry done, and vacuumed the boat. I could have made a new Flash with the amount of ginger fur we got rid of. It's a nice feeling having the boat all shipshape and with all your supplies stocked up. There is probably a delightful Japanese word for it.
Boaty trivia: Average costs to run a narrowboat for a year.
Marina (Optional): £2000
Licence: £1000
Insurance: £150
Diesel: £300 (Depending on much you cruise obviously. I think I use about a litre an hour.)
Fuel for the multifuel stove: £600 (War prices)
Blacking (Protective hull painting) £200 PA (£600 once every 3 years)
Engine servicing (plus bits and pieces) £200
Boat Saftey Cert (and works): £200 (£600 every 4 years….piece of string figure)
Misc (and contingency fund for when bad things happen.) £500.
Gas: £160
Very rough total: £5500 PA  £100 PW. Not as cheap as many people imagine. I think it's worth every penny. It's a wonderful way to live.
Please, please, please…if you can afford it, can you bung a bit of cash into our Just Giving page.
Thank you. :)