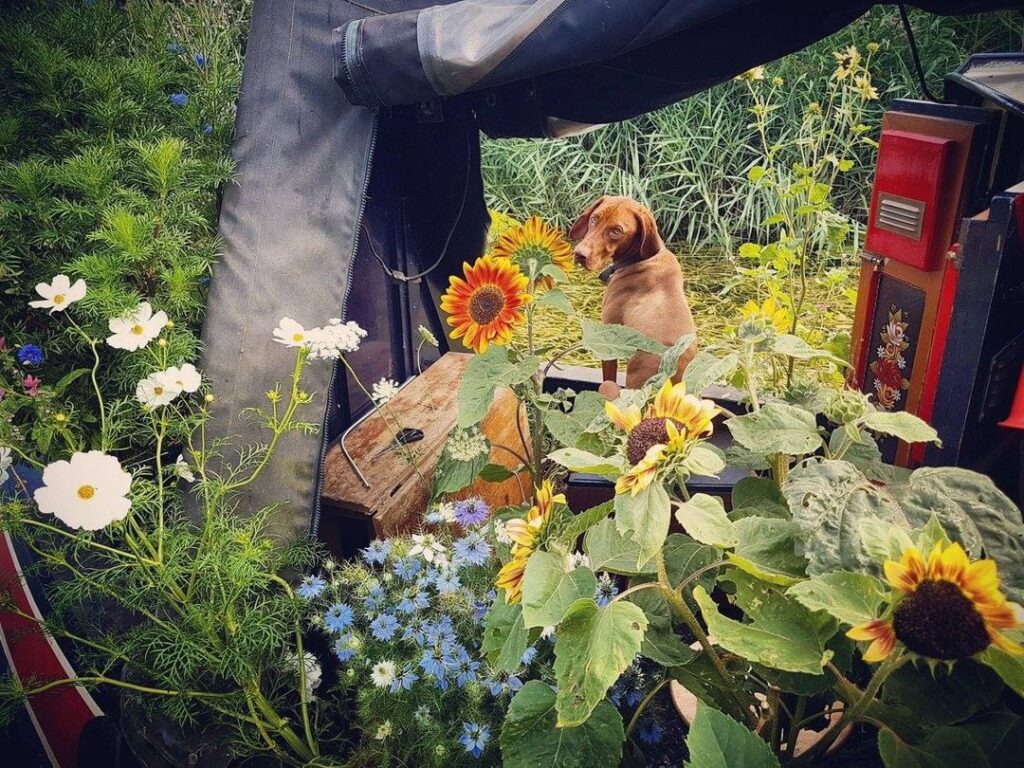 2 pm. My neighbour for the night is a chap called Rob, in his boat named Vulcan. Rob is in his late 40s and has recently retired from the RAF. He's one of those organised buggers. He kept his head down in the RAF and came out with his military pension and two flats that he had bought and done up while he worked. So now he is fully retired and living off his pension and income from the two flats, one of which he says he'll move into when he's got boating out of his system.
I've met lots of ex-military bods on my travels. Last year I met a chap from the Royal Engineers who ended up giving Casper's engine a service and fixing some bits and bobs. Rob bought his boat and spent a year refitting it…then he renamed it from "Why Knot". (He is not superstitious.) He too has a pointer dog, A Spanish Pointer called Ruby so I showed them the best places locally  for off lead run arounds.
Vulcan is a very smart folk and definitely has that military feel to it…it's super tidy….ropes coiled nicely….mugs all hanging up facing the same way….he even has a shoe rack. In comparison, Casper has a more lived-in feel….or 'crack den chic' as my father might call it.
There are quite a few boats moored along this little stretch of canal. As is usual there is a majority of middle-aged single blokes. They all seem pretty keen to get on the beers tonight. I haven't told them about Dr Davies banning me from the pub as they might call me a Jessie and give me a wedgy.
Boaty trivia: My insurance is due. It's gone up since I remembered to tell them I have a brand new engine. It's nearly £200 for the year but that's fully comp. If I manage to sink Casper, they will refloat him and repair any damage. I've also had a reminder about my boat licence which is due in January. If you pay upfront you get a discount….10% I think. It's another example of 'if you've got a bit of cash, life is cheaper…..it's expensive being poor'. The licence is just under £1000 a year for my 45ft boat. Great value, in my opinion. For that we get over 2000 miles of well maintained canals and rivers to live on. That also includes our fresh water and our waste/recycling. The liveaboard licence means you are exempt from paying council tax. Lots of boaters moan about the licence fee…but a good proportion of boaters are white middle-aged, divorced men who like nothing better than a good old-fashioned moan. You can usually spot their boats….scruffy unloved vessels with roofs full of junk, and they are generally flying a polyester George Cross flag (Made in China) from the tiller.
Reasons to be cheerful: Higgledy Anne has sent me some suggestions for flower seeds we might add to the Higgledy shop in the new year. Anne has a very good eye for such things. She suggests bringing back Sunflower 'Harlequin' and bringing in Phox 'Creme Brulee'….Cosmos 'Apricotta'…..Nicotiana 'Starlight Dancer'…..and also some grasses. She has got a bit carried away, frankly, and has probably been at the Malibu and Coke again…
Please help us to help Shelter UK help people who need a safe home this winter, by clicking over to our Justgiving page. x
We have now raised over £3000! YEAH!!! :)))