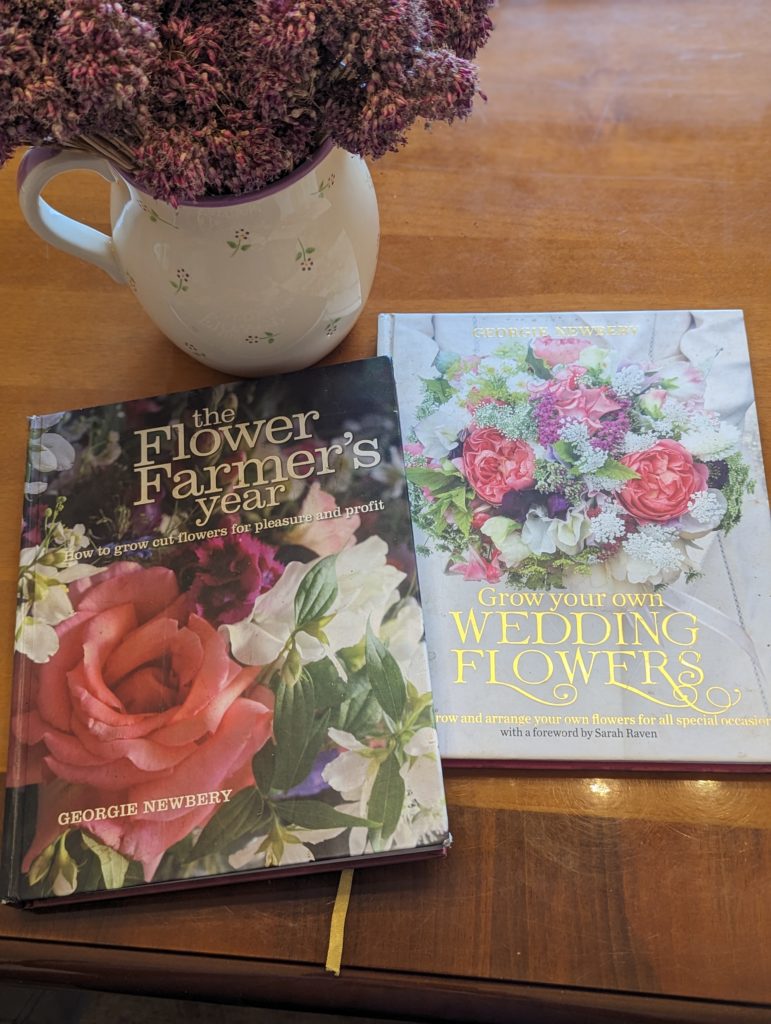 Wowzeroony! Last week I had the pleasure of completing an online course by the Queen of cut flowers, Georgie Newbery. And all I can say is Wow! The course I took was the "How to design a cut flower patch," and boy, do I wish I could go back in time to before I started growing cut flowers and take this course before I started. How much easier life would have been. All I can say is I'm grateful to have taken it now, and I can't wait to take this applied knowledge and put it into action.
Georgie, the Flower Fairy Godmother
Georgie is like a flower fairy godmother, filled with real gusto and joy, able to answer any question regarding cut flowers and experienced in practically every area of growing and selling cut flowers. She's passionate about sustainable seasonal British-grown flowers and equally dedicated to supporting anyone with a desire to create a business in cut flowers. Georgie quite literally is the best mentor you could ever ask for when it comes to both growing and selling cut flowers!
Course Recommendations
I've been lucky enough to go on a few of Georgie's courses, and while all have been fantastic, if you could only do one for now, I'd personally recommend starting with the "How to design a cut flower patch" course. Whether you're planning to sell cut flowers, create a pick-your-own flower farm, grow wedding flowers, or simply enjoy bunches for yourself, whatever your flower growing goals are, an efficient, well-planned cutting patch that saves time, money, and energy is something all us flower growers would benefit from.
The Course Experience
The course starts with the ever-joyful Georgie centre screen, armed with pen, flipchart, and an eagerness to not only teach but also learn what the participants are aiming for. Georgie begins the session by introducing herself and Common Farm Flowers and goes on to invite each person participating to share a little about who they are, what their flower goals are, and what they hope to get from the course. This is a lovely moment, full of inspiration and ideas of other flower growers. But what I particularly love is Georgie's ability throughout the course to continually ensure everyone's goals, situations, and hopes are addressed as she goes through the course, very frequently offering specific suggestions to each individual's scenario. It's this ability to really cater the course in such a specific way to all the individuals participating that I think makes Georgie's courses stand head and shoulders above so many others.
Course Content
The "How to design a cut flower patch" course literally takes everything into consideration and breaks it down into a logical, non-daunting way. It covers protection from wind, animals, weeds, pests, and diseases. How to best layout your beds for quick, efficient picking and maintenance. Considering flower shapes, sowing times, seasons, and the most-needed flower ingredients. How to plan breaking up the cutting patch into logical sections, and how to create the best cut flower beds. And it covers loads of other areas including irrigation, feeding, mulching, polytunnels, compost, staking, hot beds, path maintenance, path width, flower harvesting, and more. It seriously is a very thorough course and one of the best things about it, is that Georgie actually sends you a recording of the session for you to keep and rewatch time and time again so  you can revisit it, (something I'm about to do right now!)
In a nutshell
This course seriously covers everything you could ever think of for designing a cut flower patch, and what I find incredible is even though the course covers so much. Rather than coming away with loads to think about, you come away with clarity, logic, and a clear plan and idea of how to get started efficiently. Georgie is serious about being organized and saving time, money, and energy, and this course really does give you the insight to do just that. For myself, one of the biggest takeaways from this course is one of Georgie's infamous sayings, which is "do less but do it better!" Efficient, practical, logical, and joyful, I couldn't more highly recommend this course for anyone who's into cut flower growing. If you'd like to book onto one of Georgie's online workshops then check out the fantastic common farm flowers website by clicking here!
As always, happy flower growing!
Higgledy Gemma