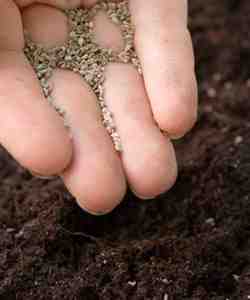 The fork and the spade have been the chosen weapons for the people of the Higgledy Revolutionary Front (HRF) as they dig for victory amongst the couch grass and the bellbind. Over the last few weeks Ranners, Oli and Mr Bigglesworth have toiled from dawn till dusk to create a growing space in which to plant the most glorious crops of flowers known to humanity and indeed beyond.
Finally in the last few days Ranners was able to plant the hardy annuals that will withstand the Cambridge winters and whilst Oli leaned on his rake and retold his world war one battle stories to the yawning Mr Biggleworth, Ranners sowed and sowed again.
Cornflowers, gypsophilia, clarkia, calendula, Larkspur and nigella were amongst the list of beauties whom as we speak are wriggling around and getting into uniform to join the ranks of the front. These little parcels of joy are awakening to the bugles and the unfurling banners of the mighty (albeit rakish) crack force of fighting troops that is the HRF. Upwards and onwards these brave boys and girls go, defending beauty and the glory of the senses against the vicious forces of the dark lord of bland. Let us wish them good fortune in their crusade and welcome them into our homes and workplaces, our marquees and the sweet sweet hands of our luvverssss…yeah baby.
Kind regards.
Ranners and his pair of juggling parots.