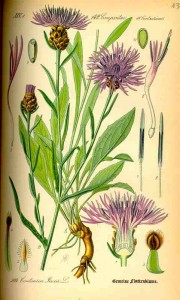 We at Higgledy love cornflowers. It is a little known fact that native sites where cornflowers grow has declined from 264 to just 3 in the last 50 years! The conservation charity plantlife has named it as one of the 101 species it is trying to bring back from the brink.
In folklore, cornflowers were worn by young men in love; if the flower faded too quickly, it was taken as a sign that the man's love was not returned…bless his little cotton socks.
In France it is the symbol of the 11th November 1918 armistice and, as such, a common symbol for veterans (especially the now defunct poilus of World War I), similar to the poppies worn in the United Kingdom and in Canada.
So there you have it…Cornflower trivia…you don't get that with your No Frills baked beans.
We did an autumn planting of 'Black Ball' from Mr Fothergills seeds.
Ranners and his omlete tossing bear.
(Illustration by Otto Thome 1884)