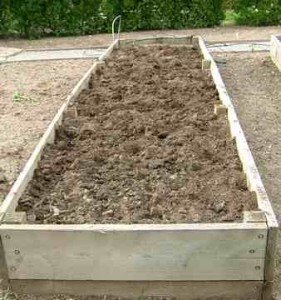 In order to best grow flowers for cutting it is generally best for most plants to dangle their feet in free draining soil. If your soil is a heavy clay you can counter this by building yourself raised beds. Other advantages of raised beds include being neat and tidy, they stay uncompacted because you don't tread on them and it is easy to add compost and mulches etc. Also if they are not filled right to the top you will be able to cover them with netting if you have seedlings to protect from the pesky wildlife.
I have found the best timber to use are old scaffolding planks. We get ours from a local scaffolding company who can't use the cracked or damaged ones to reasons of health and saftey. It costs them to dispose of waste so they can be bought cheaply and will often deliver for a small fee. They are very sturdy and are just the jolly job.
It is important that you are able to reach the center of your raised bed from the sides in order that you don't tread on the bed. The boards I use are 8ft so it makes sense to have the beds 8ft by 4ft, therefore using three boards per bed. Some people raise concerns about using treated timber as chemicals may leach in to the soil but as we are growing flowers that are not for consumption I have no worries on this front. I'm also not sure that this take up of chemicals from timber actually happens….I haven't seen any scientific evidence. Has anyone else?
If you are an old wrinkly you can make the beds waist high and therefore avoid bending over so much and we'll get another ten years out of you yet! If you live near Cambridge you can get Ranners to build them for you but make sure you've got lots of tea in, otherwise he gets the hump.
Oli