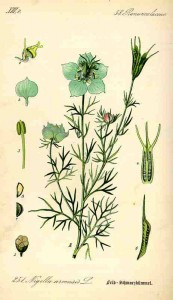 We've planted loads of nigella this year. It's native to southern Europe, north Africa and south west Asia. Common names include Love in a mist and Devil in a bush. Seeds are used in Indian and middle eastern cooking to add a peppery taste. It has been grown in English gardens since Elizabethan times and was found in Mr Tutankamen's tomb. (as was our friend the cornflower)
It flowers from July to September and should be planted in well drained soil in full sun.
We at the Higgledy garden have planted 'Miss Jekyll', 'Mullberry Rose' and 'Moody Blue'. A great cut flower and a welcome friend on the good ship Higgledy…roll on next summer.
Hope all is well.
Ranners and his herd of elusive Longhorns.
(Illustration by Otto Thome 1886)