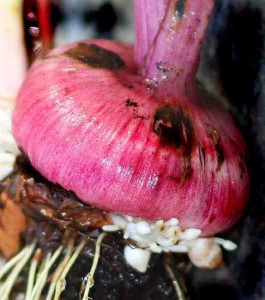 Over the last few years I've just thrown a juicy fat layer of mulch over my dahlias, after cutting them down to a few centimeters from the ground and they've been fine and performed admirably the following year. However, some older, wiser and more wrinkly people than me prefer to dig them up. If you do dig them up make sure you stand them upside down to dry before you do anything else. Then store them in a box with dry compost and leave them in a frost free place and they will stay nice and cosy until you plant them out again in the Spring. Happy days.
I do however always dig up my Gladioli as I find they tend to fair much worse when left in the ground. Some feel Gladioli are somehow common and vulgar, perhaps that is why I love them so much. I go for the dark varieties like 'Espresso' and 'Zorro'…those pastel ones are a little washed out for my own taste but Granny Ranners loves them…each to their own.
The Higgledy Peoples republic will be planting plenty in the Spring. If you have any particular favorites then please let us know.
Regards
Ranners and his loquacious lemurs.