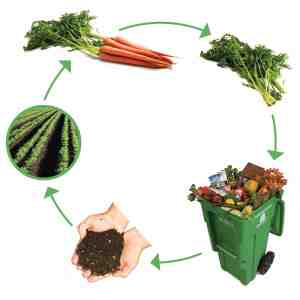 Most of the flowers that flourish in English gardens prefer a moist but well drained soil. That may sound like a Mory oxon…a roxy moron…that may sound contradictory but it means a soil that doesn't stay too wet but retains it's moisture. When digging your soil it over it should crumble like Granny Ranners's Chocolate cake.
Compost, compost, compost is the key, both for heavy clay and light sandy soil, one cure fits all. About 40% of what's in our house hold rubbish can be composted. The finished product is rich, dark, crumbly and sweet-smelling. Don't let people tell you it's complicated because it's a piece of cake. At it's most simple just pile your compost-able waste into a pile in the garden and cover it with cardboard or an old carpet and dig it over once in a while to get all the micro organisms moving to different areas of the mix. Adding a few spades of soil helps get things started. In the warmer months it should only take 3 months to turn to gorgeous 'earth food', your soil will love you for it and so will your blooms.
I shall post more on this important subject a little later next month.
Oli