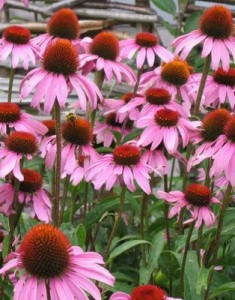 Commonly called 'Purple coneflower', echinacea is a member of the daisy family. Wonderful herbaceous, drought tolerant perennial chaps whom are endemic in East and central North America. They grow to 140cm high and have non branching stems. The generic name Echinacea is rooted in the Greek word ἐχῖνος (echinos), meaning hedgehog it references the spiky appearance and feel of the flower heads.
It is a well held belief that our friend the echinacea plant will ward off infection and various studies have proven this to be the case. This included a test carried out by the European Medicines Agency.
As a cut flower it has to be one of the greats. It lasts well in the vase and is a great late summer entrant to the games. Try it with Black Eyed Susan.
Plant it in medium to poor soil, with good drainage in full sun and all your echinacea dreams will come true. I dead head ours and prune back lightly in the Autumn.
I'd be interested to hear if anyone has experience of using echinacea for cold and flu bashing and with what results.
Ranners and his pontificating penguin.