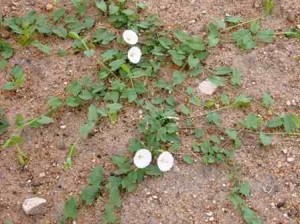 Weed of the week, week 1 is not a weak one. Boom boom! Ha!!! Hee heeeeee! Ok…pick yourselves up off the floor…calm down…I know, I know, I'm a funny chap but we've got work to do.
Presently the Higgledy army are fighting tooth and nail, a bitter war with the Bellbind warlords. The new patch of ground we have been offered has been ravaged by this relentless and persistent tyrant for too long and the otherwise peaceful demeanor of the Higgledy People's Front has been pushed to the limit.
As you may know we don't use any chemicals in our garden. Hearts and minds it aint, shock and awe is the order of the day. We march into battle with forks, spades, sieves and buckets of sweet tea…I say we…actually Oli and Mr Bigglesworth seem to have retired to the shed to check the racing results. The bellbind (or Bindweed as it is also known) root is white, fleshy, fairly brittle and slightly corkscrewed. It all has to come out or it WILL regrow. It has to come out and be burnt, not composted, if at all possible it should be blasted from this planet into the outer cosmos…and then burnt. Now when I say it all has to come out, I ought to point out that it's roots have been known to penetrate 15ft into the earth, probably trying to reach the magma which no doubt makes it stronger. Now you're not going to get it out to this depth, in this case we have to manage it's rearrival at the surface with great diligence. Tease out as much of the root as possible and keep at it, eventually it will weaken, capitulate, and the land will be yours and the plants that flourish on it will be your followers. You can reopen the schools, banish the food queues and sing drink fueled sea shanties to your mother in law…because the wicked witch is dead.
Any tips on bellbind destruction and or prevention welcome.
A non organic but very well explained bindweek removal method can be found here with our friends at Crocuskitchengarden.
Mr Bigglesworth