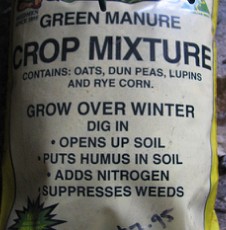 Green manure is becoming very fashionable with the new wave of veggie growers and flower growers alike, especially the happy hippy organic crowd and quite rightly too. Why this practice ever came so close to dying out in the UK is almost unfathomable. None of us want a witch hunt but I say let's blame our parents generation…they were all into Arctic roll, Findas crispy pancakes and generally loved chemicals and all things plastic and must be held accountable for something.  As a consequence they didn't need to feed the soil naturally as it was effectively high as a kite on steroids.
People say that you can't own land…you just borrow it from your children…I can assure you that's rubbish….you can own land and you can give it away to your cat if you wish.
where was I?… 'Green manure'…what is it? And how is it going to satisfy my needs?  A green manure is not manure at all…it is a crop that can be grown when a patch of land is left without anything on it for periods of six weeks or more. They are simply perfect for growing in empty autumn beds and have a plethora of benefits. They prevent nasty weeds from growing. They also add nitrogen to the soil when they are dug in during the spring. This digging in also is beneficial to the soil structure.
If you grow clover as a green manure for a year it will flower and attract bees into your garden which of course will reserve you a place in heaven with all the bees that have passed.
So! Dig out all your weeds and sow, sow, sow babyio…about 50g per square meter….and that's it. Once you dig it back in to the soil you must wait at least 4 weeks before you replant something else.
Happy manuring!
Oli.