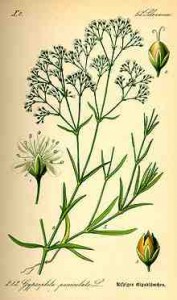 Gypsophila, or as it is more commonly called, babies breath has been popular with the florist trade for yonks and yonks. Strangely most of it that gets to the UK started life off in Peru…don't get me started on air miles…especially in refrigerated aircraft…grrrrrrr.
It loves chalk soils…the clue is in the name if you are a Greeky geeky kind of chap or chapess…gypso philli=chalk loving. Fantastically it seems that this wonderful little plant may help to cure lukemia…on going tests look promising…go gyspo go!
As for growing it, I have never tried but we put seeds in the earth three weeks back so let's keep our Higgledy little fingers crossed. We planted 'Monarch White' from Mr Fothergill's seed company. In the spring we will plant again in batches every couple of weeks to produce consecutive harvests. Sow in March for blooms in June in well drained soil and full sunshine.
As a cut flower it is invaluable as a foliage filler and the old wrinklies love it…bless their little zimmers.
I'm off to young Corbett's birthday bash, please don't let any of those children things throw up in my shoes again.
Ranners and his healing crystal loving, dolphin.
(Original illustration by Otto Thome. 1885)