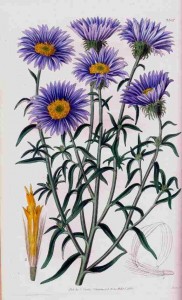 Aunt Betsie loathed Asters, she said they. "weren't of our draw" and that they "smell of wee and belong in old peoples homes", which Ranners quiet frankly thought was a good description of herself. Other than that she was a dear old girl who unfailingly gave him a Blue Peter annual every year till he was 32 at which point she died, having spent the last year of her life believing she was a Peruvian tree frog.
The Aster loathing gene did not embed itself into the double helix of Ranners's existence and next years Higgledy Garden will be abundant with the frizzy little darlings.
The name Aster comes from the Greek word meaning star and was the symbol used for the Hungarian revolution of 1918, which became known as the Aster Revolution. The ancients used to believe their perfume would ward of evil serpents and the flower was also considered to be a Talisman of Love…much like Ranners.
They are dead easy to grow but must have full sun to flower properly. Indeed they belong to the Sunflower family and not the daisy family that many people less well informed than Ranners and Great Aunt Betsie seem to believe. A top tip for growing Asters is to get your seeds in the ground early, just after the first frosts. Make sure your soil has plenty of compost and is free draining….these little babies don't want to have wet feet.
We shall be planting, 'Milady' and 'Ticklish' amongst others…any recommendations greatly received.
They make excellent cut flowers and look great with our old friend Gypsophillia.
Rather fine Asters can be found at MyTinyPlot Blog.
Ranners and his duo of miming badgers.