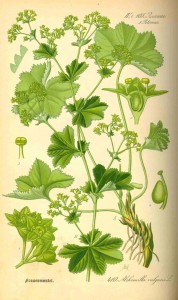 A wonderfully unpretentious young lady is our Mollis, graceful, beautiful but far from showy. However she happily self seeds around the garden so keep an eye on her, lest she take over. Commonly called Lady's Mantle in these parts and I think throughout most of Britain. As I understand it the leaves look like the Virgin Mary's Cloak…hence 'Lady's Mantle'. Alchemilla Mollis will grow to about 18 inches with beautiful scalloped leaves with little yellow flowers held in tight clusters above the foliage. After it rains water is held in beads and baubles on the leaves and sparkles against the matt of the leaf. Quite stunning. This (and not a lot of people know this!) is where it gets it's name 'Alchemilla' as the alchemists used to believe, (and I can understand why) that the water held on its leaves was the most pure known to humanity and used it in their quest to make gold from base metals.
Culpeper claimed that women with sagging breasts could make them firm and rounded by smearing them with the juice of this plant. This certainly warrants further investigation and Ranners will willingly offer his time as a scientist if willing volunteers step forward.
Once it is established it is drought tolerant and will withstand heavy clay. As a foliage filler for cut flower displays there are few equals. It should flower from late spring to early winter. A truly charming little perennial to whom I would send flowers myself, were she a woman. Actually, thinking about it I would probably be a bit of a tart if flowers were women.
Ranners and his unicycling lama
Image by Dr Otto Thome (One of his best I think.)