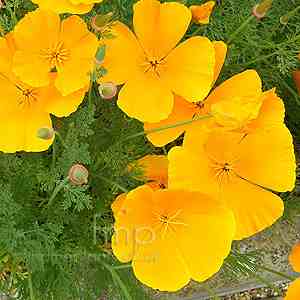 I'll give you three guesses as to where this poppy is native? Yes you got it…these little beauties are the exotic surfer dudes of our flower beds and borders, perfect little specimens, if we couldn't buy them in a packet from the garden center they'd be out of our league. Eschscholzia californica as they are called by the clever people (I sound like I've had one too many if I try to pronounce it) is similar to the opium poppy in that it can be smoked and has a much milder affect than it's more…shall we say 'down the line' cousin. Don't try this at home…go for a bike ride instead…or knit a nice tea cosy.
It is a fantastic plant for a low maintenance site as it will self seed year after year but it must be in full sun. These Californian beach babes must get their rays. Plant them mid spring and well after the last frosts, here I would leave sowing till May. If you dead head them they will continue to add colour to your patch for yonks and yonks.
Now I'm sure many of you are thinking that Ranners has gone a little wonky in the conk for thinking that they make good cut flowers, as many folk have trouble keeping them in a vase for more than a day. Well listen close my friends…don't try and sear the stems as we might with Papaver poppies but DO recut them underwater…I normally don't do this with other plants as I have found it doesn't makes a jot of difference but with our Californian friend here…she needs dunking. Also (and I know it goes against out organic vibe) but put a drop of bleach in the vase to keep bacteria at bay. Now they are not going to be the longest lived flowers you've ever had but they will do ok…keep them in a cool place too. Oh yes, I should have mentioned you must pick them early in the day…they look fabulous then too as it happens.
We at Higgledy have done an autumn sowing of 'Mission Bells', 'Vivid' and 'Strawberry Fields'.
Ranners and his Beat Poet Zebra.
Image from findmeplants.co.uk