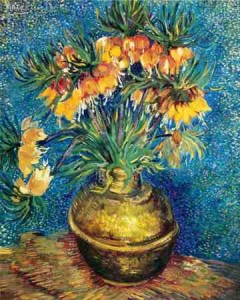 Just by following a few simple guidelines you can extend the vase life of your cut flowers whether they came from your own garden or they whether they were sourced (When seasonal) from the good old folk at Higgledy Garden. Being that neither would have traveled the thousands of miles necessary by plane from Africa will certainly help to give them a long and prosperous life in the vase on your mantle. (By the geeky picture of your children, taken when they graduated.)
Firstly, pick them as early as you can in the morning when they are all hydrated and feeling fruity and put them straight into tepid water. If your flowers have waxy stems then they can be seared in stonking hot water for a few seconds to seal in their sap.
Secondly, put them into a really clean vase, bacteria and fungus are deadly enemies to our (let's face it) wounded friends. Recut the stems at a 45 degree angle, this gives the plant a bigger surface area through which to draw up the water. Take off any leaves that would be below the water line. This is super uber important, leaving them in produces a gas which can kill the blooms.
Thirdly, use preservatives…because we are rock and roll, happy hippies who don't use sachets of chemicals to preserve our flowers we have learned how to make out own organic ones, which quite frankly work so much better in side by side tests. This is our little secret…don't tell anyone and please don't put it on the internet. Add a teaspoon of sugar, a teaspoon of vinegar and a teaspoon of lemon juice. Some say use bleach instead of vinegar…well…we do sometimes…though it feels a bit odd after striving to keep our crops free from chemicals…can we sit on the fence on this one? Yes..it's our website…it's our fence…it's our bums!
If possible keep the display in a cool place…or at least a cool place overnight and change the water every couple of days.
Please let us know of any other techniques you have for extending the life of your flowers.
Regards
Mr Bigglesworth.
Painting by Vincent Van Gogh. (We love you Vinnie!)