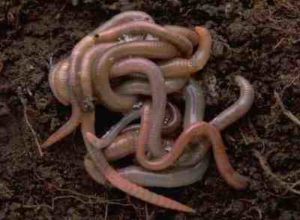 In order to keep your blooms at their most perky it may be advisable to use an organic fertilizer. As you may already know we make masses of our own compost here at Higgledy but shop bought fertilizer still has its place. Chicken manure also gets added to the mix as does fish blood and bone. Seaweed is also a great fertilizer but presently there is some debate on the impact of its collection on marine life so the happy Higgledy hippies that we are have suspended its use until we know more facts…Big Al has gone down to 'City Hall' to rattle some cages and see what falls out.  (He's an American chap you see.)
Fertilizers usually have three elements: nitrogen, which promotes green, lush growth; phosphorous, which helps flowering; and potassium, which contributes to root formation.
Worm castings. Worms are our best friends. (We don't get out much.) They aerate the soil allowing free flow of nutrients and great root growth. As they wriggle around being all wormy they swallow a load of soil…and later it all comes out. Worm poo poo kaka is the ambrosia of the soil world…plants just dig it…(yeah I know…great pun) These castings are nitrogen rich, can be bought by the bag load and won't burn your plants if you put too much on. A winner all round.
Wood ash. Wood ash is rich in potassium so is great for plants that are coming into flower. It sweetens up  acidic soil making it more alkali…so obviously don't put it on acid loving plants. Put it straight on the beds not on the compost heap as it will quickly leech through the heap to the ground underneath.
Leaf Mould. Collect a massive pile of leaves…shove in a corner for a year…and you will have fantastic soil improving fertilizer. Pile separately from compost as it takes longer to break down and only use conifer needles sparingly as they take longer to break down.
Horse manure. We tend to avoid this as unless it is some years old it has a high concentration of soluble salts which are bad for our flowers. Also its phosphorous count is low.
Organic fertilizers work synergistically with your soil and leech out their goodness more slowly than their synthetic cousins. Using them will help make your flower bed a groovy little ecosystem.
Oli.
Image from kidport.com