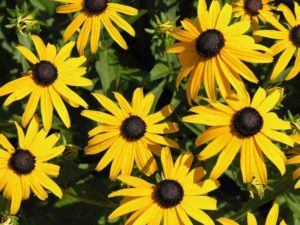 Oli says Rudbeckia reminds him of a girl he met whilst on R & R in The Burma Campaign. He spotted her bathing in the Salween river and fell instantly and deeply in love for nearly four days, until he met her sister, to whom he was happily married for four years until she ran away with his brother.
Commonly called Black Eyed Susan, rudbeckia is a prairie plant, native to North America. She is herbaceous and most commonly perennial, though there are plenty of annuals available. An English garden favorite and constantly sits in the top ten perennials with the 'Garden's World' crowd. Rudbeckia fulgida var. sullvantii 'Goldsturm' has been awarded the prestigious garden of merit award by the RHS. Without a doubt this plant is true work horse in the garden and will flower till the first frosts and won't run riot all over your ground. I have found it particularly drought resistant.
Rudbekia was named after Olaf Rudbek the Elder, a botanist who was a real person and not someone I invented or who is out of Lord of the Rings.
Many people I meet will not have yellow flowers in their garden. This seems to be a funny disease that mainly attacks the affluent middle classes, clustered in the shires around London and in the south in general. There is no known cure but some scientists are experimenting with Jamie Oliver to see if he can bring them back round. Good luck Jamie with that.
As a cut flower Black Eyed Susan is the 'Mummy', swimmingly cheerful and bright and long lasting. Looks great with Echinacea. A hands down winner. We at Higgledy will have more growing in the spring than you could shake a stick at.
We would love to hear from anyone who has grown any of the chocolate or red varieties for advice on which ones we should go for.
Ranners and his quizzical cricket
Image from Lukas Riebling (Wikicommons)