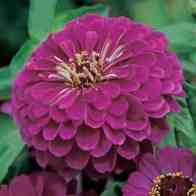 Zinnias are ace, they've got more flounce than the gay bunting lover's annual reunion. Big showy blooms on long stems that come in a plethora of colours. They are primarily a Mexican flower but spread northward to the American southwest.
Zinnias are easy to grown from seed but require a humus rich soil that is free draining and in full sun. If you have the space then start some in the greenhouse and transplant out after the frosts have run away. Feed once a month with a happy hippy organic fertilizer. This lovely plant owes its name to the botanist Johann Godfried Zinn, whom I'm sure was a very nice chap. Since selective breeding began, there have been over a hundred cultivars introduced.
Grampa Ranners is the worlds biggest Zinnia fan he grows hundreds of the things in his wrinkly old garden and the butterflies love him for it. Swallow tails and Monarchs will be hanging out with you if you plant these little fellas and you will secure your place in Butterfly heaven with extra portions of crumble and custard…and maybe a nice hat.
The whole of the floriculture world has its eyes on which varieties the Higgledy People's Front are going to planting up next year… Amongst others we shall be planting Johnson's Purple Prince (because we thought the name was silly), Lilliput and Art deco. (but keep it under your hat)
Zinnia are also 'pick and come again'…fab fab fab…can they get any better you ask! They smell wonderful! …and they last ions in the vase….yeah baby!
Some say Zinnias are unsophisticated….which quite frankly is a really stupid thing to say about any flower and more than likely their eyes must have fallen out and been replaced by cold marbles. I'm not one to tell people what to like and dislike but…if you don't like Zinnias you need a 'check up from the neck up'.
Ranners and his over enthusiastic polar bear