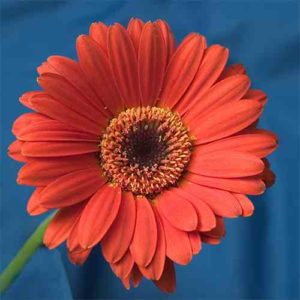 Gerberas are one of the UK's top selling flowers. I find this fact astonishing as they surely have to be the most homogenised, uncharacterful, cutsie, Daily Mail reading pieces of baby poo poo kaka ever to have adorned the forecourt of a petrol station.
One doesn't wish to be too hard on a helpless plant but perhaps when technology has advanced and we are able to make machines to travel back in time, we should send in Arnie to reprogram the genetic make up of this genus so that it becomes the most tasty food stuff ever known to dinosaur kind. Then our dinosaur friends can scoff the thing right out of existence. Arnie is 'The Gerberator'…at a cinema near you from Friday.  Gary Oldman can be the baddy who tries to sneak the evil gerbera seeds into Arnie's pocket and send him forward in time to 'Gerberate' the modern world….and I can play the bumbling bachelor who drives a beaten up old Austin Allegro and who somehow saves the day and gets the girl….played by Cameron Diaz, with whom I have an offstage romance….and end having twins with…two boys…one of whom we call 'Jupiter Fab Monkey Rock Star Hairy Trousers' and the other we call 'Clive'.
We don't care how well they sell, we The Higgledy People's Front aren't growing any. So there. Umper Lumpa stick up yer jumper!
Ranners and his  trio of forgetful rabbits.
Image by darkpeakimages.co.uk