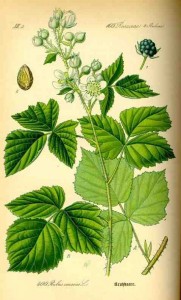 Of course a weed is only a plant which has found itself to be in a place where you don't wish it to be. Our friend the bramble can be friend or foe. Although a weed in many situations it is also prized for its delicious fruit, and is therefore found in cultivation.
The bramble has a habit of going where so ever it wishes and will reproduce a sucker from a root 45cm underground. It also delivers masses of seeds using an airborne strategy by way of its seeds passing through birds. (Indeed germination of the seed is enhanced this way)
Being the good citizens you are, you wouldn't be using any chemicals so…don your suit of armour and dive into the melee. Get the beast down to ground level and burn anything that you collect. You will be left with several stumps, I'm afraid they've all got to be dug out, and burnt too. Once you've finished give yourself a clap on the back and demand someone makes you a nice cup of English breakfast and offers you a Gari Baldi or two.
Oli
Image by Otto Thome 1887