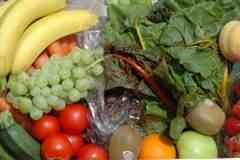 A lovely lady recently suggested we offer the wonderful Higgledy Blooms for sale through a local chap who successfully distributes veg boxes to 500 clients in the Cambridgeshire area. My first thoughts are that is a fantastic idea, however we are limited on how many stems we can provide and will already struggle to fill our obligations for next year. The following year however should see us grow a little more and would love to take something like that on.
Does anybody have flowers as an option with their veg delivery?
Mr Bigglesworth.
Image from The Cambridge Organic Food Company.