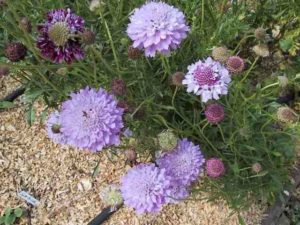 The Scabiosa achieves the double whammy of being both uber attractive and a long flowering plant. Sometimes called the pincushion flower, it is a welcome attraction to any garden but in the cutting garden it is particularly useful as it can be can be dried as well as pressed or of course used unprepared straight into the vase, (it should last a week in the vase). One can find both annual varieties and perennial. Grow it in soil well prepared with organic material and in the full glare of the sun. Sow scabiosa atropurpurea after the frosts have wobbled off back to the poles or in the greenhouse or coldframe. Sometimes you find find they need staking especially if like us you get the odd gales trying to undo all your hard work.
Mrs Gelati, up the road often has a vase in her kitchen window, she puts them with a white flower which I can't recognise from my vantage point on the bike as I zip past…well I say 'zip' probably more like the frosts with their wobbling.
The olden times herbalist, Culpepper prescribed it for just about everything from removing freckles to the plague and other 'pestilent diseases', for unclotting blood and for healing 'inner blows'. I know lots of people hold Culpepper in the highest regard but sometimes I think he was just making it up as he went along…cheeky monkey.
Kindest Regards
Expanding Mandy