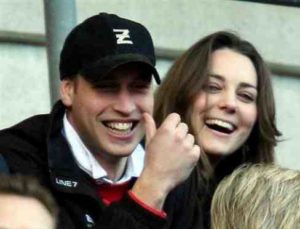 Who Will Produce The Royal Wedding Flowers?
I love this picture of Wilhelm giving the thumbs up to Higgledy Gardens. Thumbs up back at you old chap…nice work…top totty!
Congratulations to both of the little darlings on their engagement. We at Higgledy Garden wish them the best of luck. Unfortunately the scrummy little Kate hasn't phoned us up yet to tell us what month she will wed so we can discuss what flowers she wants but no doubt she's really busy. Come on Kate, get yourself down to the here. Lots to be getting on with…and your last chance for a bit of rough before the big day. (What happens in the Higgledy Garden stays in the Higgledy garden)
It goes without saying that Charlie would like his son and daughter in law to be married surrounded by flowers grown on English soil. He would want that beautiful 'God Stadium' of Westminister Abbey to be glorified with organic, ethical blooms….just pick up the phone Charlie…we're just up the road in Cambridge…where you went to university…nudge nudge…we'll sort you an old boy's discount.
We'll keep all our readers up with the developments in the Royal wedding flowers as soon as they happen…that phone will ring any minute…
Check out the flowers that Camilla used for her bouquet…clickerty click…Camilla's Wedding Flowers.
Ranners and his very British Bulldog.
PS I am delighted to announce that the lovely Jan from JW Blooms will be a guest blogger next week, writing on the very subject of home grown flowers…we are just so on the money here…we're practically in flames.