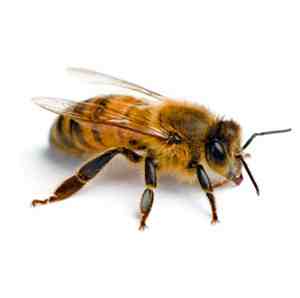 Bee Population Decline
Most of us gardeners are aware of the declining bee population and being gardeners are aware of just how serious a loss this is. Its not just the honey bee whose numbers are dropping, the bumble bee and the solitary bee population is also spiraling downward. We don't fully know the reasons for this but the usual suspects of the veroa mite, loss of habitat and the use of herbicides and pesticides seem the most likely.
As gardeners we can help these little rascals by giving some thought to what we are growing on our land and the what style of land husbandry we employ. Bees don't like the over developed varieties of flowers and don't go for the double headed dahlias for instance. They generally prefer the natives when it comes to luncheon. Thistles, clover and dead nettle.
We are lucky enough at The Higgledy Garden to be able to have our own 'Bee meadow', we have set aside a number of square meters just for their feeding pleasure. Not everyone has got the space to do this but they can still plant a number of other plants which will both attract bees and humans alike.
My top five plants for attracting bees to your garden.
Lavender. The stripy little critters can't get enough of lavender, they're bonkers for it. Plant some and you will make friends with the insect world and your garden will smell deliciously English.
Foxgloves. Poisonous to humans but a nectar factory to the bees. Foxgloves are native to the UK and are therefore a welcome resident in the Higgledy Garden.
Cornflowers. Another nectar rich plant which delights the senses of both man and bee. Lots of cornflowers will get your garden 'all a buzz'. (Tee hee!)
Heather. Heather is often overlooked as a good source of food for bees but it is just brilliant for providing early spring snacks for those foolish bees who come out of hibernation too early.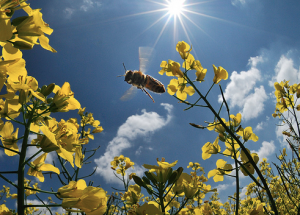 Borage. Another beautiful native that will keep our bees happy. The fantastic blue flowers can be eaten by ourselves too…chuck them in a salad for an unusual blueyness that will rouse the envy of your neighbours.
We are deciding whether or not to start keeping bees in the Higgledy Garden next year, we've already got a lot on our plate but it would be great. Our chum Hugh is a bee expert and so could help us along. Hummm…we'll keep you posted.
Please visit the Higgledy Garden shop where you will find gorgeous seeds for plants that bees love…oh yes indeed!
Bee happy!
If you like this post why not read about attracting butterflies to your garden? …Oh go on!
Ranners and his sword dancing cats.
Get Higgledy Garden Posts sent free to your email box. Just click on the orange logo at the top of the page…and all will be well with the world.