Who were these 'Victorians' anyway?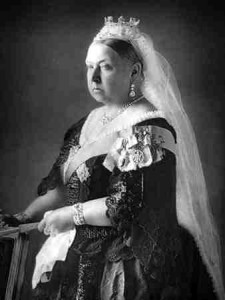 The Victorian era in British history was named after Queen Victoria (Moody old carp) who was Queening about from 1837 – 1901. They were a funny old bunch the Victorians, I blame it on the cash. As a nation we were loaded. Money was being washed up on our metaphorical shores from the Empire and great advances in industrial technology was stacking up the cash at home too. Coupled with this big bulging wallet was a long period of peace. (The Higgledy Army are very much into peace)
Why did the Victorians get into gardening?
This combination of prosperity and peace lent itself very nicely to a great deal of indulgent pursuits, including of course gardening. Not for everyone of course but for the the upper classes and the families of industrialists. The Victorians weren't ones for waving their arms about and wearing tie tyed socks…on no…they were prim and proper types and this was reflected in their gardens.
The walled garden was the order of the day in Victorian Britain. Vegetables for the table and flowers for cutting were laid out regimentally by the head gardener and his staff. Not only domestic gardens flourished at this time but also public gardens were introduced. Often these were paid for by Christian benefactors who believed that such places might stop public drunkenness. How right they were.
What flowers did the Victorians prefer?
The Victorian gardens would have looked very familiar to us, with swathes of beautiful Larkspur, Foxgloves, Phlox and Columbines amongst others. Expansive rose gardens would have been inspected after a delightful evening meal of Pheasant burger and Alphabet spaghetti. Here's a photo of a Rose garden of the time. (Photography was invented right at the beginning of the Victorian era)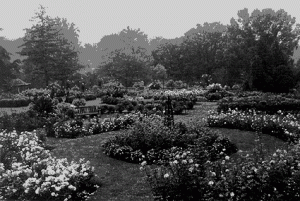 Image credit. unknown.
It was really  the Victorians to whom we owe our modern style of gardening which is so popular and recognised throughout the world as a benchmark for distinction.
They may have been a quirky lot but good on 'em.
Mr Bigglesworth.