What is Moon Phase Planting?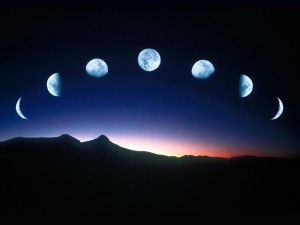 Image credit. Caroline Villada.
Surprisingly 'Moon Phase Planting' is not the title of a 1970's concept album by a band called, 'Harry Gilbert's Funky Bongo Brothers.' It is in fact a method by which seeds are sown to gain bigger yields by virtue of aligning them with the vibes of the solar system or at least our Moon. Many of you reading this will be rolling your eyes about now but please don't…for a start it will make it much harder for you to read what I'm writing. Lunar phase planting has been recorded in various ancient cultures from the native Americans and the Egyptians to cultures as far south as Australasia with both the Aborigines and the Maori using the technique.
How does Moon Phase Planting work?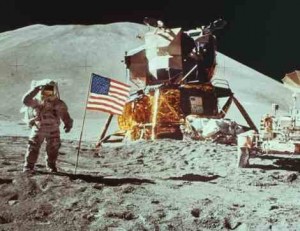 Image Credit. Nice And Safe Attitude.
Believers in this system suggest it may work because of various factors. Moisture movement in the ground and plant, gravitational changes and light levels. I myself have found no hard facts to suggest that any of these suggestions indeed work. I have however heard commercial growers, especially of grapes in France, who say that their yields are bigger when they use a lunar system. As enterprises they explain that although they do not understand HOW it works it seems it does….and therefore they employ it.
How does one go about this Moon Phase Planting?
In its simplest form it works like this. For crops that grow above ground, one plants when the light of the Moon increases each night. For the new Moon to the full Moon. For root crops, one plants when the light decreases each night. From the full Moon to the new Moon.
It can get more complicated…much more complicated…and starts involving the Zodiac, crystals and if you're lucky then perhaps some nudity. If you wish to explore more esoterically then visit Gardening By The Moon. Or for a more biodynamic view (We love that word and needed to get in in) visit Lunar Organics.
Does Higgledy Garden utilise Moon Phase Planting?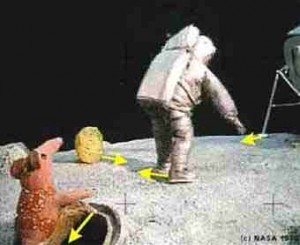 Image Credit. Fakemoonlandings.com
Higgledy Garden prizes itself on keeping an open mind. We shall run experiments in 2011 and naturally keep you posted. (We know you're on the edge of your seats.) My own belief is that the results will be favorable…but not because of gravity or light or healing rays of Lunar love but more because plants (and for that matter people) grow better when you pay them attention. Things thrive when you have good intent to make them so. Being acute with the very sowing of the seed will set its own seed within the gardener to follow this 'intentful' action with nurture and with care. It is this that will result in an abundant yield.
Ranners and the Owls of Knowledge. (Now that really should be a band name)