What is the Winter Solstice and what on Earth has it got to do with flowers?
Ok…if the truth be known the Winter Solstice is not known for being big on flower action, mainly due to the fact there aren't any. Unlike its other half of course, the 'Summer Solstice' who persuades every druid and elf in all Christendom to wear flowers in their hair.
Colloquially the Winter Solstice is called Midwinter…The 21st of December is when we experience the shortest day. The Earth's axis is tilt is at its farthest away from the sun and this is most obvious the further north one is.
Who celebrated the Winter Solstice?
The Winter Solstice is one of the oldest celebrations known to mankind. It predates anything Roman (pah!) The ancient Norse men of Northern Europe believed that the sun was a wheel that turned the seasons…and it is from that wheel that we get the word Yule. There was much to celebrate at Midwinter…the days were getting longer and the Norse folk celebrated with stories, ale and the smoking of pipes. (Nothing's changed there then…nice.)
The Druids were Celtic priests who also celebrated this most ancient of celestial happenings. Misteletoe was cut from the trees by these men and women. The mistletoe was seen as having awesome power…when everything was dormant in the harsh cold, the mistletoe shone forth even in the arms of the sleeping, leafless but sacred oak. The form it took was spherical…its silhouette against the white winter sky a circle…like the wheel…like the sun…like life itself. I myself can vouch for this power…in 1992 I grasped a bunch of mistletoe and held it up above the head of Mandy Cunningham…she was well out of my league…galaxies away from the sort of lass who'd have tickle with the likes of me on a winter's night…but the power of the mistletoe shone forth for the young Ranners…and yes…yes indeed my friends…I was 'in like Flynn'. Magic.
Has anyone got their Birthday on the Winter Solstice?
Well I wasn't going to say anything…certainly not so publicly…but as you asked. Yes…er…I celebrate my Birthday on this most special of nights. The day of my birth being the last fortnight of the 1960's. Yes indeed…I was carried in the womb of my mother through the heady days of the 1969 Summer of love, the Apollo Moon landing and the blockbuster starring Dustin Hoffman, playing Ben Braddock as 'The Graduate'…to whom this Ben owes his name.
So as this Winter Solstice approaches may I take the opportunity to ask that all your Gods, Goddesses, Spaghetti Monsters or Universal Love Fairies, look fondly over you this Midwinter.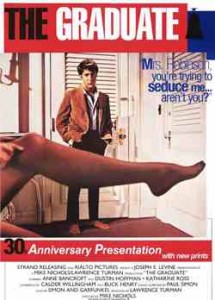 Peace and Love.
Ranners & his Temptressing Vixens.