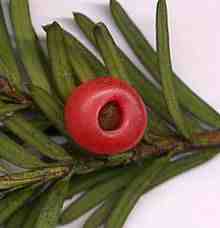 The Taxus Baccata or more commonly the Yew, may look like an innocent hedge or elegant tree but hidden inside its needles and berries there lies a complex  array of alkanoids ready to strike you down. That is if you happen to walk into it with your mouth open and then start chewing…it could happen.
All parts are poisonous except the flesh of the berries but if the hard seed inside is fractured it can spill the poison within and the results can be fatal. Symptoms of staggering, trembling, coldness, weak pulse and collapse are often displayed but also it is not uncommon to go straight to the collapse stage.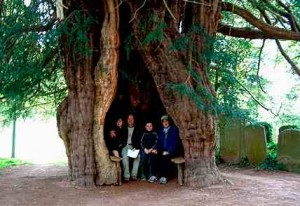 There is many a story of folk who have cut Yew hedges and left the clippings on the farmers field on 'tother side of the hedge and the clippings have killed several cows. Horses have an even lower tolerance, while it would take 50-100 gms of the foliage to kill a healthy man.
Whilst reading 'Goat World' (I don't get out much these days) I discovered that a single mouthful is enough to render one of the horned fellows as an exfellow. As they describe the presenting symptoms are usually 'Found Dead'.
So the morale of the tale is 'I wouldn't eat it if I were Yew' (Sorry…that was truly awful)
Subscribe to Higgledy Garden and have free updates & mind bendingly exciting posts sent to you before anyone else gets a look in. Click on the RSS logo at the top of the page.