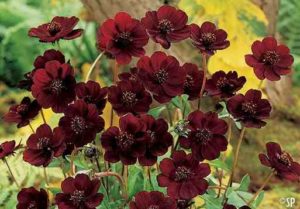 For generations Cosmos has been a favourite garden flower in borders throughout the world. Often described as a plant that you can't fail to grow (we've heard that one before!) and is often seen at the back of borders due to its height of up to 5 ft. In the Asteraceae family Cosmos is a daisy like flower native to central America.
How to propagate Cosmos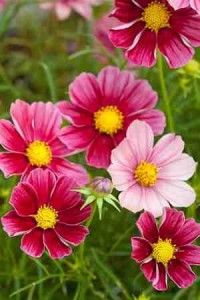 The seeds of Cosmos are large which makes them nice and easy to plant. Sow them in the ground just before the frosts have finished, where you want them to grow and thin them to 12 to 18 inches apart. Generally they are annuals but there are some perennials out there and they can be dug up and divided to expand your Cosmos empire.
How to grow Cosmos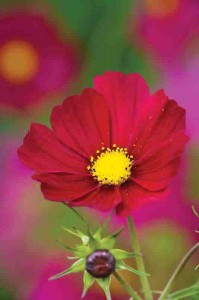 Let the kids have what they want! …and these kids want sunshine and lots of it. Though they will still perform in partial shade there will be a lot of general grumbling and the show won't be as good. Cosmos are very happy in dry, well drained soils. We tend to give the soil a couple of feeds of organic fertilizer throughout the growing season and they seem to love it. If possible place them in a sheltered place away from the wind but if this is not possible then you may need to stake the willowy ladies. If you don't wish them to get too tall you can pinch them out and they will become more bushy. Deadhead these wonderful garden flowers and the blooms will just keep coming. They will also do well in containers. They will provide you with flowers from June through till late August and sometimes early September.
Cosmos and Wildlife
Butterflies seem to love Cosmos and I will pay more attention as to which ones come to feed of it…but beware those pesky little aphids love 'em too! Ladybirds of course love aphids so they will trot along for a feed and birds love ladybirds…and on and on…so we can be safe in the knowledge that Cosmos will do good things to encourage critters. With the exception of deer who hate them…ha ha Bambi…we win this one!
Varieties of Cosmos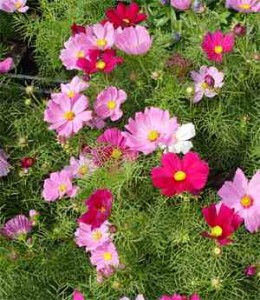 Well there are loads to choose from. We are great fans of the Sarah Raven seed collection. She has wonderful varieties such as 'Antiquity' which is a absolute blinder in my less than humble opinion. It has the essence of an old tapestry and yet remains a little less showy than its siblings. Then there's the beautiful carmine pink of 'Dazzler' and  also 'Chocolate' which has the look and colour of…you guessed it…strawberry Jelly. You can be sure that the jolly nice and beautiful people at Higgledy Garden will be planting all of the above and many more….yippie!!!
Cosmos Vase life
Despite many people saying to the contrary, we have found it to last for at least a week and sometimes longer. Check out our post on vase life to extend the life of your cut flowers.
What varieties can you recommend?
Image Credit. Sarah Raven and Heronswood Plants
Other posts you may like…Snapdragons and Plants to attract Butterflies.
Subscribe to Higgledy Garden and have free updates & mind bendingly exciting posts sent to you before anyone else gets a look in. Click on the RSS logo at the top of the page.