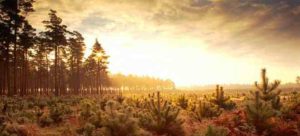 The Higgledy Garden sits firmly in the Eastern counties. Our landscape is renowned for its wetlands and because of this we have a huge diversity of plants. 'Breckland' has a unique mix of landscapes from wetlands, deciduous woodlands, heathlands and pasture. Wildflowers? Oh yeah…we've got it going on!
What wildflowers grow in East Anglia?
Pasque Flower (Pulsatilla Vulgaris)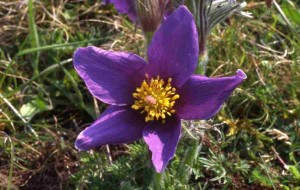 What a beauty. A large and low slung wildflower which can be 80mm across. Somewhat hairy with deep purple petals and striking, bright yellow stamen.
The Pasque Flower is classified as being vulnerable and only grows in 23 ten km squares.  She is a great fan of chalk and limestone hillsides. April is the time to see it bloom.
In folklore the Pascal flower blooms on the graves of vikings and indeed we do see them on earth works. Probably because they enjoy the (now) undisturbed chalk grassland.
The flower was discovered by John Ray in 1660  on the Gog Magog hills which I can see from here as I type away here on my ZX Spectrum….in fact with a bit of luck the Gog Magog Farm shop will be  selling our flowers next year.
The Bee Orchid (Ophrys apifera)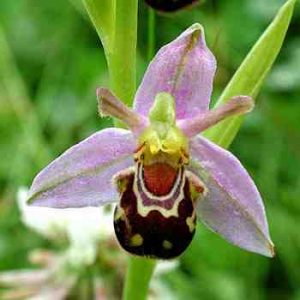 This rather fine little number mimics a bee landing on its petals…the clever blighter  attracts bumble bees whom try and mate with it and hey presto the flower is pollenated. Cheeky, perhaps unkind but no doubt effective.
Where the ground has been a disturbed some time before, like quarries and roadsides it seems the Bee orchid is quite happy and can be found scattered across England and Wales.
The best time to see it is in June and July when it flowers.
Oxlip (Primular Elatior)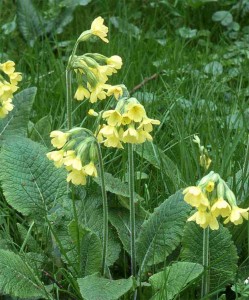 Not to be confused with primroses or Cowslips. Your Granny probably said they were a cross between the two but Granny is wrong wrong wrong…and take great pleasure in telling her and then remind her she owes you a fiver. In fact it was Charles Darwin himself who backed up the theory that it wasn't a cross…yes that's right…Charles Darwin…so there….put that in yer pipe and smoke it.
Their distribution is quite small and is confined to an area where Cambridgeshire meets Essex and Suffolk (Shudder). It flowers in May and can be found in woodland.
The status of the Oxlip is 'Near Threatened'
Obviously we have loads more wildflowers in East Anglia and a good place to discover what we and other regions have is by visiting the jolly nice people at Plantlife.
For other posts on wildflowers from moi then why not swing over to the Higgledy Garden Wildflower Campaign…or perhaps you would like to discover how to attract hedgehogs to your garden? …I'm so good to you.
Enjoy hunting out your local wildflowers and let us know what you find.
Image Credit. Visit Norfolk & Plantlife
Subscribe to Higgledy Garden and have free updates & mind bendingly exciting posts sent to you before anyone else gets a look in. Click on the RSS logo at the top of the page.