Maltese Cross (Lynchnis chalcedonia)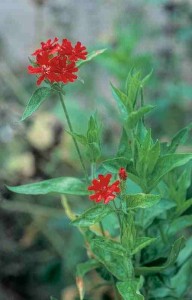 Other names for this delightful wildflower are Burning Love and Nonesuch, both of which would be great names for Champion Greyhounds…just a thought. 'Burning Love' is native from central Europe all the way to the rolling grasslands of Monglolia and to Northwestern  China.
A popular garden plant 'Burning Love' can be grown in well drained soils in full sun and will happily self seed and indeed can become invasive. It flowers in May to August and will often be seen on waste ground.
In folklore the Maltese knights brought the seeds from these plants home after the crusades. Charlcedon is a place in Turkey and this would back the theory.
Dorset Heath (Erica ciliaris)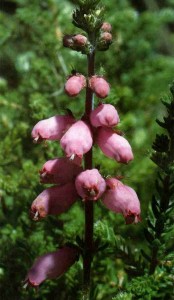 Dorset Heath is a funny looking fellow with elongated ballon shaped blooms and is restricted in the most part to Dorset. It is a wildflower in decline mainly due to its hybridisation with the more common Cross Leaved Heath, this could eventually end its flowery reign.
Find it in September when it flowers in bogs and wet heaths.
Cornish Heath (Erica vagans)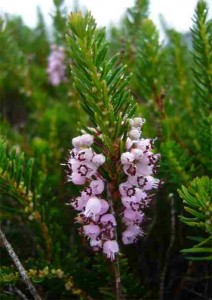 This little beauty can only be found in Britain on the Lizard moors and its vibrant lilac colour adds a fantastic…somewhat erie vibe to the moors in late summer. Flowers in August and September. Find it on the Goonhilly Downs…where if I'm not mistaken there is also an airbase…but I may have made that bit up….ok its coming back to me now…slowly…I'm getting telescopes and barbed wire. (feel free to talk amongst yourselves)
you can find other posts on wildflowers by clicking on The Higgledy Garden Wildflower Campaign and please check out the conservation group Plantlife
let us know how you get on hunting down the wildflowers in your area.
Images from Plantlife
Subscribe to Higgledy Garden and have free updates & mind bendingly exciting posts sent to you before anyone else gets a look in! Click on the orange logo at the top of the page.