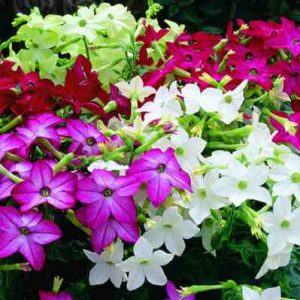 There is no doubt about it that nicotiana is one of the more classy plants that grows in the Higgledy Garden. Not only does it look fabulous but during the night the plant gives off a delightful scent which will impress Mr and Mrs Dowling-Fluffer-Trumpet when they pop over for evening cocktails on the veranda.
Although not toxic enough to kill you in small doses it is amazing to think that this plant is expected to kill one billion people in the 21st century through smoking related diseases…still…it looks pretty.
How to propagate Nicotiana
Sow the seeds thinly in a propagator on a windowsill or in a greenhouse at approx. 15-20°C (60-68°F) pressing the seed gently onto a good quality, finely sieved, moist compost. Do not exclude light or allow to dry out. Germination normally takes about 12  days. Transplant seedlings, spacing them 5cm (2″) apart in trays and grow on. Plant out after carefully acclimatising the plants to outside conditions 45-60cm (18-24″) apart.
Growing Nicotiana on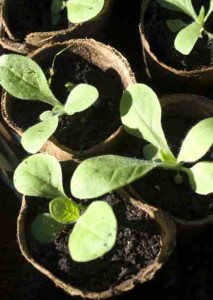 Its essential that this 'dame' of the garden gets more than her allowance of fertilizer or she may throw a hissy fit and refuse to perform. I dig some in to the bed before planting out the seedlings. She will tolerate partial shade. Don't leave them too long in their pots before planting out because you may damage the tap root…and then its curtains.
If left to seed, eventually you will develop a strain that will tolerate the cold and you will have nicotiana plants until you are old and wrinkly…or older and wrinklier.
Where to find nicotiana seeds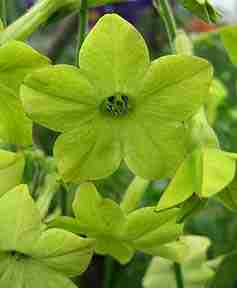 Some garden centers will have some seeds. Alternatively try Suttons or Sarah Raven Seeds. (For Sarah Raven seeds click on banner on right hand side of page) Double defo have a go at growing Nicotiana sylvestris which I know Sarah stocks…this is super posh and stately…also 'Alata Lime Green' for a freaky but friendly variety.
Visit the Higgledy Garden Shop to BUY NICOTIANA SEEDS!!! :)
Benjamin
See the other stars of the annual flower world at Higgledy Garden's Top 50 Flowers.
Clicking on the orange logo at the top of the page that says RSS, will either, instantly bring you a genie who will offer you three wishes and a 'special cuddle' or you may simply get FREE higgledy updates as and when they come…win win or what!