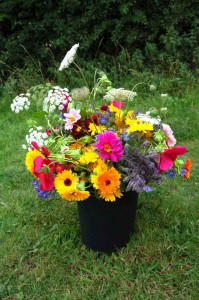 We had a wonderful year growing annuals for cutting in 2011 and have ironed out a few issues with some of the varieties we grew.
The list below is what we feel is our Top 50 annual flowers for you to grow in your garden for either cutting or general flouncing about in your flower beds. All of the varieties below will be grown in 2012 in the Higgledy Garden and we shall be keeping you posted to our progress.
I believe annual flowers offer the best option for the domestic cut flower gardener.
*Firstly they are MUCH more productive than most perennials and will often keep producing flowers all season…keep cutting and they will keep coming.
*Secondly you can grow several hundred plants for less than a tenner.
*Thirdly you can have a completely different selection year after year.
For a little more 'work' you get an awful lot more blooms.
Annuals rock!
We will soon have a shop from which you can buy seeds but for the moment I will point you to the people who I feel have the best seeds at the right price and who have the best level of service.
The list is in no particular order.
Please note this page is being revised and will be complete by the 1st January. (thx)
Centaurea, Cornflower, Blue Boy
Molucella, Bells of Ireland
Scabiosa, Pin Cushion Flower, Crown Tall Mix
Calendula, Pot Marigold, Art Shades
Nigella, Love in a Mist, Persian Jewels.
Nigella, Love in a Mist, Miss Jekyll
Ricinus, Impala.
Rudbekia, Marmalade
Lupin, Red Flame
Ammi Majus, Bishops Flower
Godetia, Crown Double Mixed.
Cosmos, Purity
Cosmos, Sea Shells
Cosmos, Dazzler
Dahlia, Cactus Mix.
Dahlia, Coltness.
Centaurea, Cornflower, Black Ball
Didiscus, Blue Lace Flower, Lace Mixed.
Tithonia, Fiesta Del Sol
Aster, Ostrich Feathers.
Sweet Pea
Sweet Pea
Cerinthe Major, Honeywort
Larkspur, Bi-colour
Larkspur, Crown Blended Mix
Larkspur, Consolida Mauve.
Amaranthus, Love Lies Bleeding
Helianthus, Sunflower, Vanilla Ice
Sunflower, Ring of Fire
Sunflower, Pastiche
Sunflower, Earthwalker
Chrsanthemum, Merry Mix
Zinnia, Oklahoma
Nicotiana, Flowering Tobacco, Lime Green
If you would like free Higgledy updates of the development in our garden this year then please clickerty click on the orange RSS button at the top right of the page.