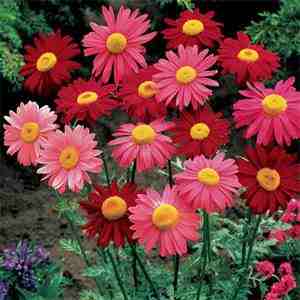 Pyrethrum come from the chrysanthemum genus and of the Asteraceae (daisy) family. Although generally a perennial there are easy to grow annual seeds available. They have wonderful showy heads and consequently make fantastic cut flowers. Some may find them a little brash…like my Nana Snooks who said they grew on the graves of Fish Mongers and made her feel like she needed a sherry and a little lie down.
How to propagate Pyrethrum
Either start the seeds under glass eight weeks before the frosts are to finish or plant out directly where you would like them to grow after this time. The seeds should germinate within two to four weeks.
'Growing on' Pyrethrum
Prepare a bed in full sun. Divide the seedlings to between 12 and 18 inches. Keep well watered and fertilized as her roots tend to be fairly shallow….and bear in mind this is not a particularly long lived plant.
We tend to pinch them out when they are about 6 inches to induce a more bushy plant and prevent legginess.
Pyrethrum seeds can be bought from Thompson and Morgan