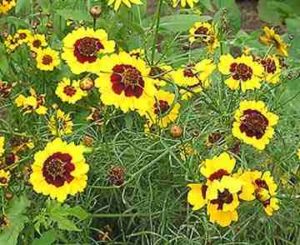 Coreopsis are a member of the daisy family. There are tons of varieites which can be either perennial or annual. Generally these sprightly young fillies are yellow but pinks and maroons seem to turn up from time to time. They are a synch to grow and therefore a 'must have' for the beginner or the lazy old toad…or even if you have boots in both camps.
How to grow Coreopsis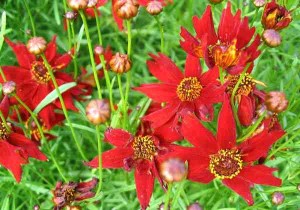 Make sure you have prepared your flower bed well, leaving a fine tilth on top and plenty of lose earth under it. She survives well in any soil as long as it is free draining.
First you must wait until  the frosts have frolocked away to Scotland. Plant seeds about an 1/8th of an inch deep and water a little every day until seedlings emerge and then reduce the watering to twice a week.
We don't feed ours as they seem to well in a lean soil but I know some people do…but then some people wear 'his and her' tracksuits…the choice is yours. Too many ferts will cause the plant to produce lashings of greenery and little in the way of flowers.
Deadhead your coreopsis. Be religious about this and the blooms will keep coming and all will be good with the world…
Where can I find Coreopsis seeds?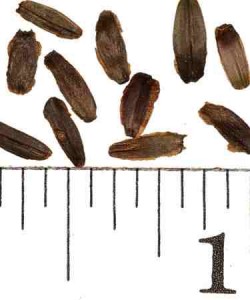 Down at your local garden center…or if like us you like to buy online for a better choice and a comfy chair and biscuits, then I would suggest someone like Suttons or T & M…or Sarah Raven (click on banner in right hand side bar)
Let us know if you plant any this year and how you get on…I'm wondering if Jan from JW Blooms plants them in her garden?
…why not take a peak at our award winning (Awarded by ourselves) post on Nicotiana….its lovely…its informative…and some say its nearly sexy…
If you would like updates on our top tips on flower growing for absolutely no cost whatsoever and a chance to win a wild dolphin to call your own (Disclaimer…er…that's not true) then clickerty click on the orange button at the top of the page.