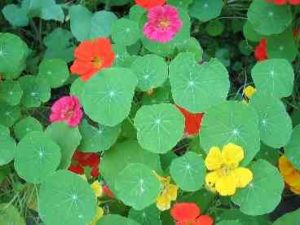 When one mentions edible flowers, most people think of Nasturtiums. I remember  my Granny 'With The Blue Table' (As opposed to Granny 'With The Brown Table') had loads in her little garden in Dewsbury, Yorkshire and she used to use them in salads to colour them up…and us nippers loved 'em.
However this is not the only way they can be used…oh no my friends…the humble Nasturtium is a versatile beast. Try the young leaves too…they taste mildly peppery (a little like watercress) and even the flower buds can be pickled for Poor Man's Capers. (So can Daisies by the way…I'm a fountain of knowledge when it comes to pickled buds)
I myself constantly woo beautiful women from around the world with my Benji Salmon au Petal…oh yes indeed. A simple fillet of poached salmon in milk and Pernod with Nasturtium petals thrown it with gay abandon. Serve up with steamed seasonal veg and a bottle of Blue Nun…smashing.
Happy Nasturtiuming!!!!
Ben
Other Edible Flower posts here.