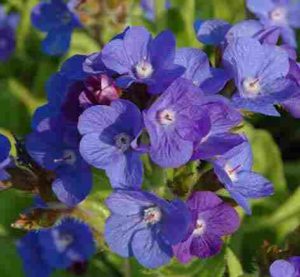 My digital friend Jan from JW Blooms put me on to Anchusa Azurea as an edible flower. I confess to had having little knowledge of the critter. Now the scales have fallen from my eyes! What a beauty….there aren't that many natural blue foodstuffs (I love the word foodstuff…it sounds so wrong) but Anchusa is certainly one…a really zingy, blow your eyes out blue.
It's a biannual or more accurately a short lived perennial and if I'm not mistaken it's a member of the same family as our friend Borage.
Both Sarah Raven and Carol Klein rave on about Anchusa but with Sarah saying they make great cut flowers and Carol saying they should NEVER be used as cut flowers. …hummm…thanks for clearing that up girls…
My research tells me that they don't really taste of anything…but will obviously brighten up any dish they come into contact with. I would hazard a guess they would look super groovy fabulous in a salad with Calendula…and with a drizzle (Thx Jamie) of Chive Flower salad dressing…(Tomorrow I will let you in on that one)
Please note…do not stuff your face with flowers….ease them into your diet slowly…allergies are not uncommon.
Kindest regards
Ben
Other posts on Edible Flowers…