Sunflowers – a favourite with children everywhere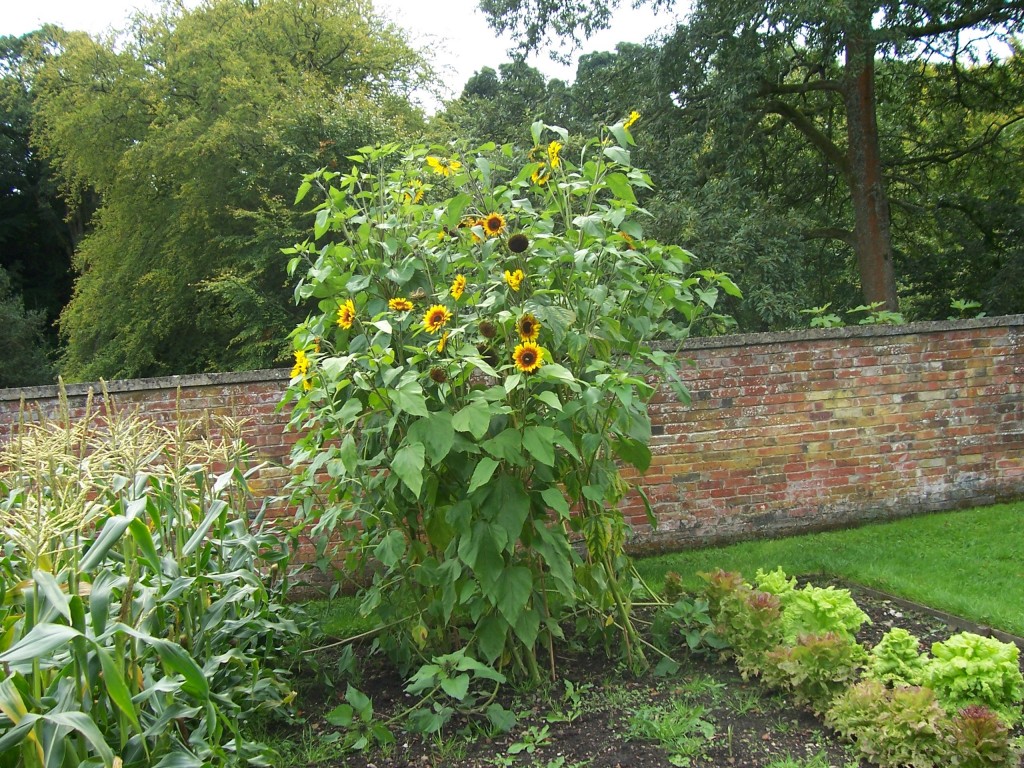 Anyone who spends time gardening with children will know how important it is to have learnt the secret of hassle-free gardening. Bottom line – what you sow, MUST grow, look great and if at all possible do so in double-quick time. Cue – the sunflower.
Even the most brown-fingered parent and child can master the art of growing these easy-peasy plants. The seeds are chunky and easy to handle; you can sow them straight into the ground in a sunny, sheltered spot and watch them grow …and grow …and grow. One has to admit the end result is impressive for such little effort. Simples! And they do SO much more than look beautiful in the vase or garden. As multi-functionality is important for any flower taking up valuable space in a child's garden, sunflowers are just perfect in every way.
How to impress your friends and grow the tallest sunflower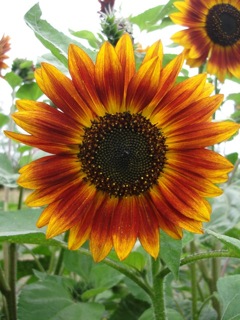 This is a right of passage for most children so how DO you grow a winner? Selecting the right variety is important. 'Russian Giant' gives me the most reliable 12ft plus specimens. Sow seeds into cardboard tubes indoors, away from pesky predators rather than direct. You can then transplant complete into the ground, leaving the roots undisturbed, when they are less fragile.
Sunflowers love fertile soil so add a bucket or two of veg peelings to the trench where you're going to plant. Some people I know include chunks of peeled uncooked potato. Whatever your particular bag, fertility is the key. And whilst, as a general rule I don't feed flowers I would give tall sunflowers a nettle feed every couple of weeks.
You'll need a sunny, fairly sheltered site – obvious really – although there is some evidence to suggest that a site with slightly fewer hours of direct sunlight is best for giants. Wherever you plant, be sure to stake from the start. Tall sunflowers need very sturdy supports or you'll find them bowing down and decapitated at the first sign of wind.
If growing them on your allotment, go native American. They do particularly well and look FAB – U – LOUS on the edge of a traditional 'three sisters' bed with corn, beans and squash.
Building with sunflowers
Small children love the excitement of running along paths flanked by sunflowers. Choose a variety of heights and colours to add interest. The ultimate achievement however is the sunflower house.
Here's how to achieve it….You'll need a 4 x 6ft rectangle (but go bigger if you have the space). Dig a trench around the edge a foot deep and push a stake into the ground at each corner and mark the doorway (North facing along one of the shorter ends) with stakes. I'd mulch the middle of your rectangle with straw or woodchips to give a soft place to sit and keep down the weeds. Plant taller sunflowers, at foot intervals around the perimeter, along with morning glory. These will scramble up the sunflowers and look beautiful. Fill the space in between with smaller varieties to bulk up the walls. When your sunflowers have reached six foot loosely tie the tops of the plants from one side of the house to the other with twine. This will form the roof and the morning glory plants will continue to scramble along the twine. I can't tell you how good it feels to lie inside and look up at the sky on sunny summer mornings.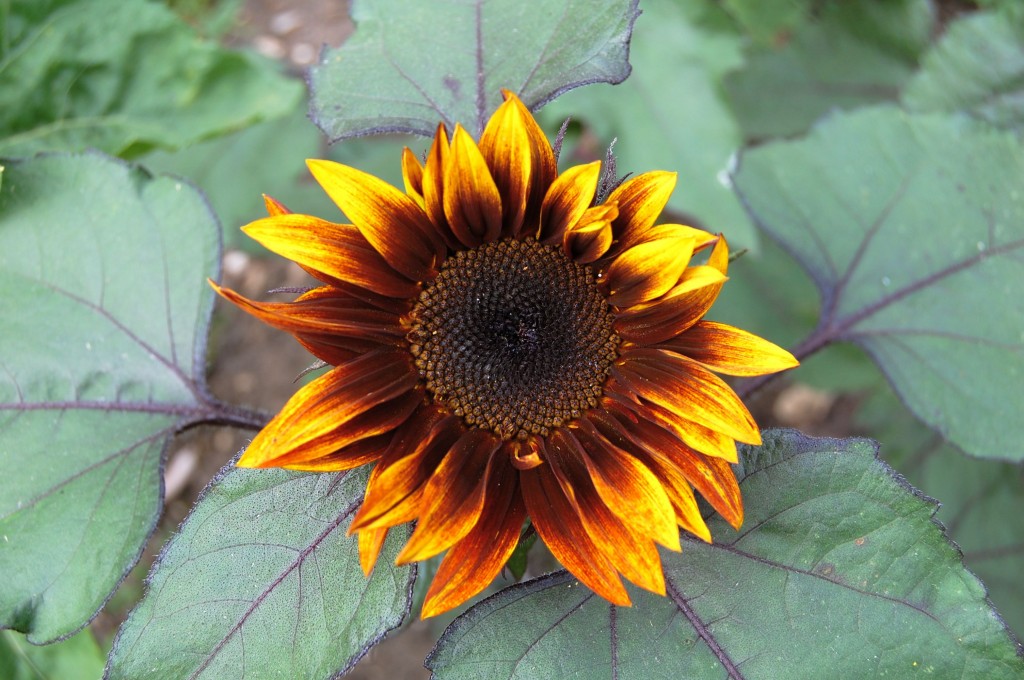 And another thing…..the sunflower just keeps on giving. Leave it in the ground and you have created a permaculture paradise – feed the birds who also eat the nasty bugs = healthy soil = healthy flowers/bees etc. The circle is complete.
And who doesn't like something for free? Children love to harvest the seeds and make pretty packets in which to store them. What you do with them after that is up to you. Keep them to sow next year? Sell them to raise some funds for your school gardening club and spread the love? Keep them and make a seed bomb for International Sunflower Guerilla Gardening Day (Usually May 1st) and spread a little happiness in the neglected parts of your neighbourhood? The choice is yours.
Thanks Cally for such a wonderful article and for taking the time to write it for us all. Your website is gorgeous and I hope the Higgledy readers will tootle over for a peak… 'Country Gate Gardens'
Sunflower seeds can be bought at the rather delicious Higgledy Garden Shop.