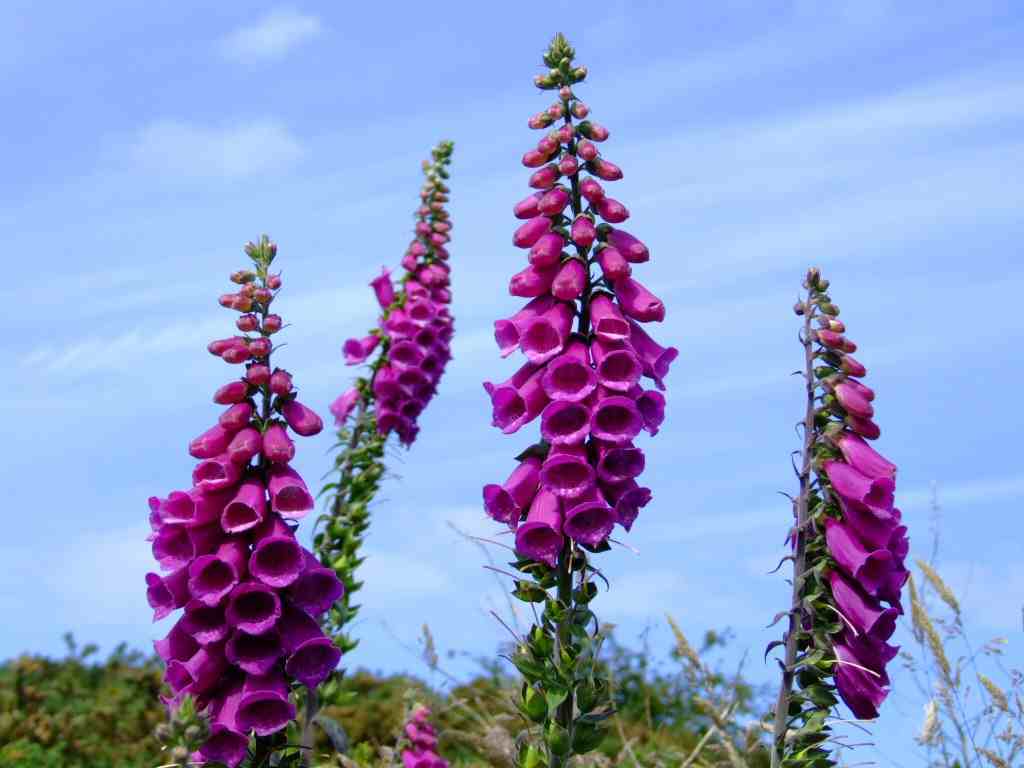 The bewildered Colonel who lived in the Datsun Cherry behind KwikSave, would whisper to us children through the passenger window, that we should, 'beware the foxglove…for the foxglove giveth and the foxglove taketh away.' He said if we ever went near them that they would rain down upon us a plague of Labradoodles. The Colonel was ace, if not perhaps a little on edge.
What is Digitalis Purpurea?
Digitalis purpurea is a biennial. That is to say it doesn't produce seeds or indeed flowers until its second year.
Typically these most delightful of the biennials are pink or white and speckled inside the flower cup. The flowers are thimble like and appear on stems generally between three and six foot. I don't know why I'm bothering telling you this because EVERYBODY knows what foxgloves look like…don't they?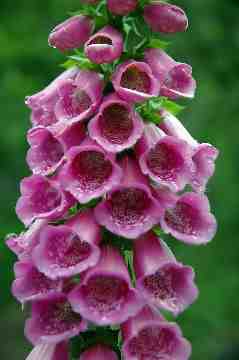 Digitalis Purpurea in Folklore
The name foxglove comes from the anglo saxon meaning…er…gloves for foxes…olde wordle tales suggested the cheeky little foxy would wear the thimble flowers on it's wee toes to prevent people from hearing him/her as he/her  hunted all the chickens. Another ancient name for digitalis purpurea is folksglove. The 'folks' were fairies. One is clearly a derivative of the other.
Digitalis Purpurea and man.
There has always existed a complex relationship with foxgloves and humans. Although foxgloves are highly toxic (I have written about this in some depth in a post which describes the 'Foxglove murders') they have also lead to the discovery of the drug Digitalin. There is no doubt that the foxglove has saved more lives than it has taken.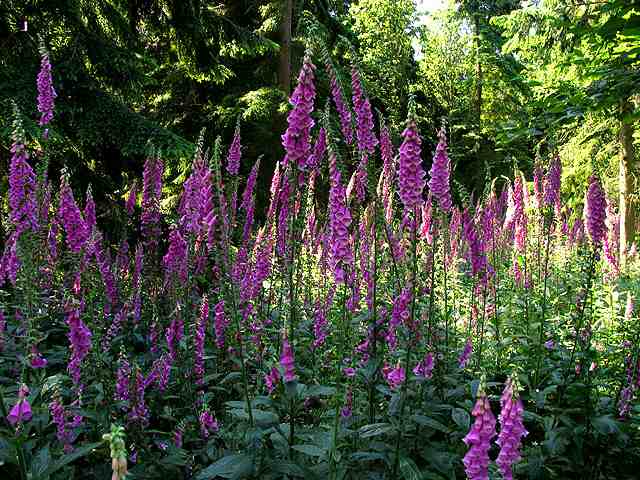 How to grow Digitalis Purpurea.
The key to having successful flowers is light shade and shelter. Don't expect her to do well in a bed that gets full sun. Give her a well drained soil rich in nitrogen.
Space them about a foot apart.
Sow the seeds mid to late spring for flowering the following year.
Think of digitalis as hedgerow plants…shade and dampness…and all will be well with your foxglove universe. ;)
What are good varieties of this here Digitalis Purpurea?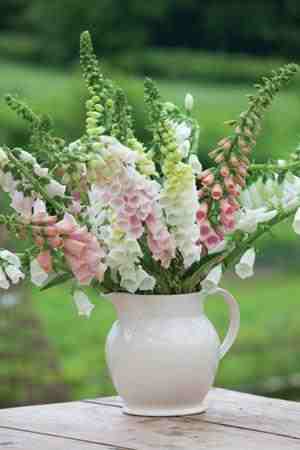 Although I haven't grown it myself, a reader (whose message and name I now can't find) said that she had grown 'Alba' with great success. Alba is a lovely creamy little number…delicious. You can find seeds and plants at the link below.
Pam's Choice is another that many Higgledy readers admire and grow. White with red speckles. A little girlie for me…but whatever rocks your boat. (link below)
If you fancy some seedlings rather than seeds then you will find 'Snow Thimble' on the link below…these are mighty fine white fellas…I shall be aquiring some of these for the Higgledy shade bed next spring.
Buy varieties of digitalis purpurea seeds and plants here.
Kindest regards
Your digital chum.
Benjamin