At the top of Shinkyshonky Street there was a cottage set back from the road with it's own paddock and horses. This was lived in by Max Power the plucky stunt jockey, now retired. He was best known for his stunt work in films such as 'Palomino Ninja', a touching tale about a martial arts pony and his teenage rider who clean up the streets of 1970's Merthyr Tydfil. He can also be seen in that rather experimental and somewhat dark Sesame Street show, "The 1 2 3 4 5! Horsemen of the Apocalypse".
You'll be wondering what on earth this has got to do with 'Bells of Ireland'… absolutely nothing…so let's move on.
What kind of flowers are 'Bells of Ireland'?
Just to confuse the issue even further, Bells of Ireland are not strictly flowers, well that is to say the green bells that it  handsomely displays are not flowers but calyxes.
In recent years they have become super popular in the floristry world. They offer a very contemporary vibe to displays and will compliment most other flowers of varying colour and form.
Bells of Ireland are fantastic when used fresh or dried, a very versatile little creature indeed.
Don't be fooled into thinking they are from Ireland, they are from Turkey…and one can guess that our friends the Turks call them something different.
If looked after properly they will shoot up to three feet, a great height for cut flowers.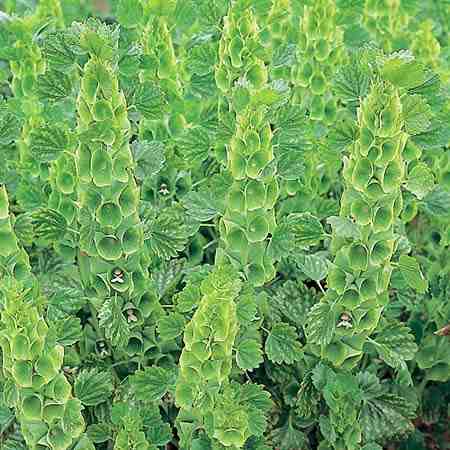 How does one go about growing Bells Of Ireland?
*Dig over your bed and add some organic material, home made compost is best.
*I sow early in spring, they tolerate light frosts. In fact they need a cold spell in order to get going.
*The seeds need light to germinate, so don't bury 'em.
*It is possible to sow them indoors but I have found they get a little peeved about the root disturbance and can become stunted and sulky. This will be down to fact they develop a long tap root…and no one likes their tap root messed with.
*Space them a foot apart, or a little less.
*They need lots of sun…think Turkey, not Dublin.
*They need to be kept moist while they become established.
*You will need to stake the willowy rascals otherwise they will take a tumble in a high wind…which is very tedious.
*Bells of Ireland usually flowers in August but can flower until the frosts with successive sowings. Though I have had mixed results with mine…
*I have heard of folk germinating seeds in the fridge…I haven't done this myself as a fridge is for keeping bottles of beer and pots of Rhubarb yoghurt cold.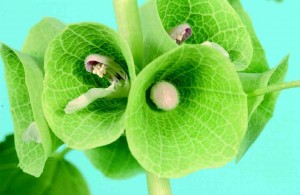 I wouldn't say the Bells of Ireland are the easiest of the annuals to grow but is really is worth a try. The results are amazing and if successful you can be as smug as you like when the vicar pops round for a Campari.
Try displaying them with Cosmos 'Purity' for a soft country farmhouse look or Leonotis for a more, 'mad as a bag of cockerels' feel. (All the rage in North London.)
I hope this is of some use to you. I shall be selling seeds of Bells of Ireland from some point in the New year. Meanwhile I would suggest getting them by clicking…here…Bells of Ireland. I will also being growing them as part of my 'Syncro-gro' where I can show you in real time on the blog how the plants are progressing in the Higgledy Garden and any problems I have. I will also show you how you could arrange them in the vase. This will be true of ALL the flower seeds I shall be selling. Folk will be welcome to ask questions and send me their photos to post….so roll on Spring! (I am so good to you.)
Please spend your lovely money on 'Bells of Ireland' in The Higgledy Garden Shop.
Kindest regards
Your digital floriculturist
Benjamin.