My great Aunt Ptolemy, grew Ricinus all over her property. Then at the end of the growing season when the plant was about to fall to earth and its maker, my wonderful ancestor would weave the leaves into a giant cow and and burn the baskety bovine at midnight under the full moon.
This annual ritual was performed right out in Shinkshonky Street in full view of her neighbours. Ptolomy didn't like 'them street people' popping around and thought that it was this burning of the cow that stopped them…naturally there was at least some truth in this, though I was more convinced they stayed away because  they didn't like talking to old ladies who never wore anything more than Spider Man knickers.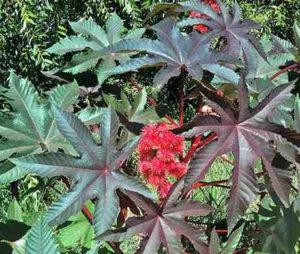 Is Ricinus really a good plant for cutting Monsieur Higgledy?
Yes it is my cherubs, very much so. For instance my fav variety, Ricinus Impala, has amazing coppery bronze leaves which work in a vast array of bouquets and not being content with lovely leaves the plant gives us wonderful creamy flowers which themselves turn into spherical scarlet seed pods of unfathomable delight.
It's big, brash and loud…this is Tropical Rock at its best babyio, dig out too much coconut rum and get on down to the funky Ricinus beat.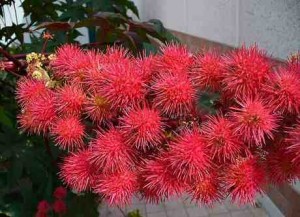 Did I mention ricinus seeds are poisonous? I suppose I should…its seeds are poisonous.
Whites are contrasted well with the dark copper, so our friend Cosmos Purity can enter stage left if desired. Leonotis will continue the exotic vibe and the orange will too work well with copper foliage. But best of all why not show up the super groovy colour palette of Lupin 'Sunrise' against the troubled deep drama of Rinicus…this takes the whole thing to a new dimension, they will have to make new awards at Chelsea and those that are new to viewing this combination will have to be seated before being exposed to its faint inducing  charms.
I Must Grow Ricinus Right Now….Right NOW I Say…How Do I Grow It?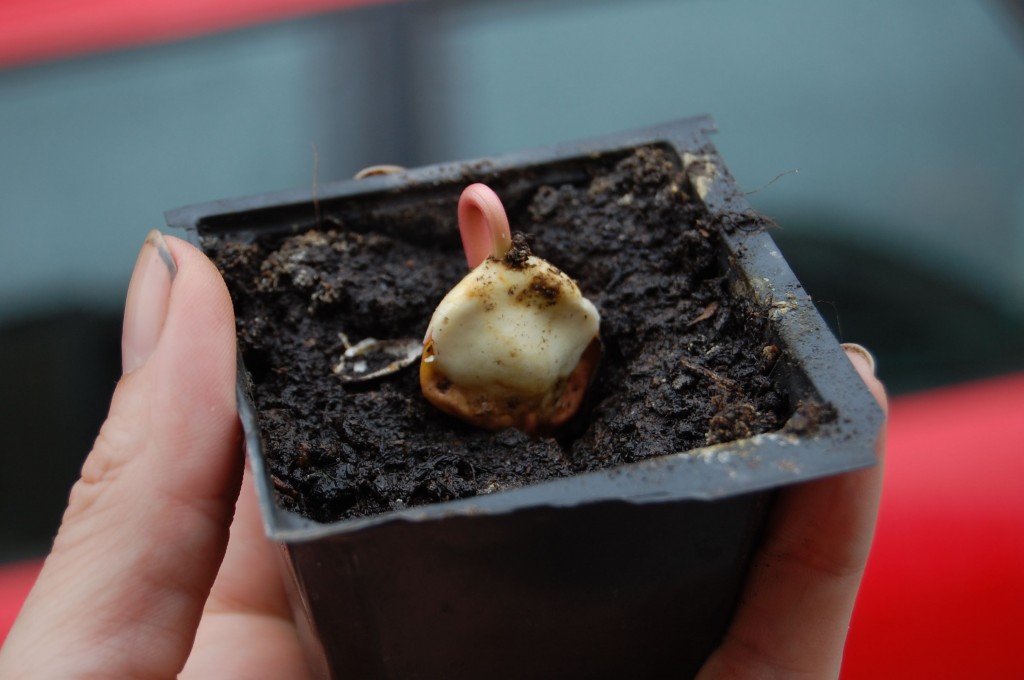 *Ricinus isn't too tricky to get started in the UK but you have to follow a few steps. It's really worth it.
*Our friend needs a long season to get really going, so I tend not to sow outside as I would have to wait till the middle of May. Instead I sow six weeks earlier undercover…
*Soak the seeds in tepid water overnight to loosen their coats.
*I sow undercover in 3 inch pots. I use home made sieved compost. In the interests of saving the world, please try to use compost without any peat in. Plonk them in 1 inch under the surface.
*Keep them in your greenhouse or on your windowsill, they should germinate fairly quickly.
* Dig your flower bed deep and add loads of organic material. Good drainage is essential. Think sub tropical forest floor.
*I leave mine until towards the end of May and plant them with at least two feet between plants.
*If you are in an open area you may wish to stake your frondy friends against the ravages of the late summer wind.
The Higgledy Garden seed shop will open from smoe point next year and you will be able to buy Ricinus Impala from it. As with ALL the seeds sold in the shop next year I shall be growing them myself and will blog about their progress. You are of course invited to comment and let us know how you are getting on with supporting photos etc.
Buy Ricinus Impala at the Higgledy Garden Shop.
Please join in, it will be great fun.
Together we can save the world and impress girls.
Kindest regards
Benjamin Higgledy.