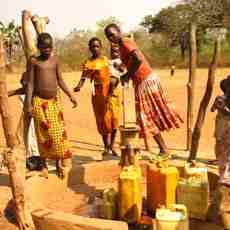 Following last years success in running the Berlin marathon and raising a grand, I have decided to embark on an even more challenging endeavor in order to raise money for Oxfam and make myself all smug and annoying in the process.
Over 2012 I shall be running, cycling and swimming a combined distance of 2000 miles. (The distance across Africa from the Angolan coast to the Tanzanian coast) …I like refering to this as a cross continental triathlon…because it sounds good. (Made slightly easier as I shall be doing this in East Anglia…not East Africa)
My target is £3946. (Oxfam's costing to drill a bore hole.) It pays for the labor, pumps, drilling and maintenance – everything it takes to bring underground water to the surface and keep it flowing. Naturally I don't expect you lot to give anything until I'm close to the end of this 2000 mile target. I shall post on the higgledygarden.com blog once in a while to keep you all up to date  (as I know you will be on the edge of your seats…)
I may well throw in the Berlin marathon too…just to give you your money's worth.
Thank you for your support…you are ace.
Benjamin (Triathlete and bloody nice bloke.)