I was delighted when Wendy Ogden from 'On The Edge' agreed to write a guest post for Higgledy Garden. Please take a moment to her visit her super ace site…it is a great read.
Thanks again Wendy! :)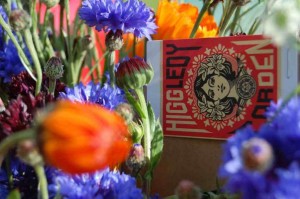 You can order a bouquet from the local florist, drop them in the supermarket trolley, or snatch a bunch from the petrol station. Some people grow plants in the garden and cut stems for gifts, or their own vases.
This is a fast changing world. Mobile phones are out of date in a month. Washing machines are only guaranteed if you pay extra for the peace of mind. We all want things to last, so it is interesting people spend so much money, purchasing a living product that is guaranteed to die.
Cut flowers bring colour and scent into the home. Unlike many air fresheners they won't cost you electricity, or batteries, and they won't come in a plastic box that is hard to re-cycle. Cut flowers can be composted in their entirety. Even my cut flower water aids the composting process.
Unlike ornaments, cut flowers never collect dust, well none that you have to deal with, because they won't be with you that long. Dried, or silk flowers, and pot pourri do collect dust and then fade. When fresh flowers deteriorate you can throw them out with a clear conscience. In this age of austerity, it can be reassuring to fulfill a non-food, comfort craving with some life. Flowers, like food, can be fast. A selection of blooms, when the stems are re-cut and dropped into clean water, will drink, or feed, while you watch buds open and stems grow.
It is no accident that most supermarkets position their flower displays by the entrance. The retailers know that you don't really want to be there, stocking up on boring regular essentials for the kitchen and home. Flowers, their colours and scents, will lift your spirits whether you buy them or not, and put you in a better mood to spend. Aromatherapy isn't just for home use.
Further to the principle of buying a product that is guaranteed NOT to last, the seasonal ranges of flowers add on-going interest. Sure, you can buy red roses, carnations, or chrysanthemums all year round. Apart from the fact that many have been flown around the world, and some grown in questionable environmental conditions, these blooms do have an air of always available about them. If you can always get something, then where is the incentive to get it now?
Seasonal flowers, when locally grown, are also available all year round. Winter foliage is luxurious and red tulips can work for Valentines too. Natural spring flowers are glorious for Mothering Sunday. Plants grown in their natural season, and their flowers that have traveled less, will perform more reliably and bring scents of natural seasons into the home.
Whether in the field on large scale, or in the garden for home uses, flowering plants are beneficial to their local environments during production. Growing plants benefit soil, and provide habitat and food for wildlife. The removal of only one part of the plant, the stem, produces a lightweight transportable product that is good for local trade and economies. Most of the plant remains giving structure for the land. Seasonal flowers, grown for cutting in more locations, also contribute diversity to landscapes.
Whether you grow your own, or buy in for home or gifts, fresh cut flowers are a very affordable, regular luxury. Buy them more often, or snip some from the garden, and the plants will reward you with more stems.
If purchasing, why not find out where the produce came from? We think globally, on the environment, and mostly regarding our food. We can also act locally, by growing, or buying more local cut flowers in season.
Wendy Ogden