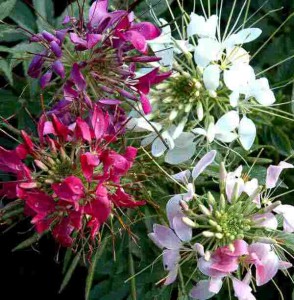 My second cousin Wilma Fruitbat was melancholic, she would sing Nick Drake ballads to her Cleome Spinosa and water them with her Autumnal tears. She cheered up eventually and now runs a successful Karaoke club in Portugal.
What's so good about Cleome spinosa?
Good question. Well…firstly they look like props from the 1960's Star Trek shows, and that's a good thing in anyone's books. Furthermore, Cleome spinosa flowers very late so offers colour and vibrant form when everything else is falling away into the ether.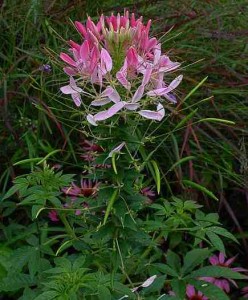 How To Grow Cleome Spinosa
*I put my cleome seeds in the fridge for a week before sowing…a bloke in a pub told me that they like fluctuations of temperature to get them started…but it may have been a dream…
*I sow mine in early spring in modular trays because the little darlings can't abide root disturbance…(and who does?) Early spring means March to the Higgledy garden.
*They need light to germinate so don't bury 'em…leave them on the surface of a good seed compost.
*Water gently, spray with a light mist…or water from underneath. I use lukewarm not cold water…because my Granny said so.
*They like a bit of heat. I don't heat the Higgledy polytunnel…because heated poly tunnels are for people who don't care if our planet crumbles into dust and blows away on a cosmic wind.
*Pinch them out so they bush out. By this I mean pinch off the very top growing tip, this will make her spread out and not up.
*Don't all of them out…leave a few to sky rocket up…there will be a prize for the tallest cleome this year…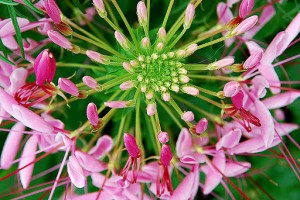 *WAIT until all the frosts have vamoosed before taking them outside.
*Plant no less than 2 feet apart, in well drained soil in a sunny spot.
*I have found them fairly drought tolerant but perform better with regular watering.
Buy your cleomes from The Higgledy Garden Shop…why not have a little gander around it?
Have fun my friends…remember if you have any questions just comment below.
Kind regards
Benjamin Higgledy.