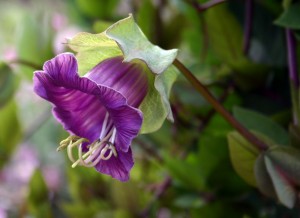 Cobaea Scandens reminds me of Amy Winehouse. She rockets up out of nowhere, big and brassy and beautiful…shines her bright and brilliant light…heady, intoxicating, unique…and then is gone.
I shall be growing three annual climbers in the Higgledy Garden this year. I use them as eco-chic windbreaks by growing them up pea netting fences. This way they help protect the willowy flowers that i grow and look fantabulous in their own right.
If you've got a wall that needs covering or a shed…try Cobaea…in the unlikely event you don't like it then grow something else next year. Simples.
You can also use the flowers by floating them in a shallow bowl…add some floating candles and you will probably appear on the cover of 'Country Life' or "Floaty Candle Monthly'.
When you have a beautiful Cobaea in your garden you can impress your neighbours by informing them that in Mexico, where Cobaea originates, it is pollinated by bats…they will think you are awesome and will hope one day  to be like you.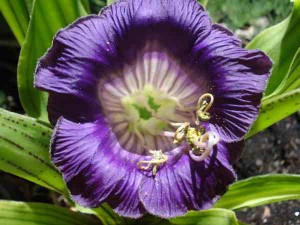 How To Grow Cobea Scandens.
*Start them undercover…early is best but not if your greenhouse will drop to freezing…so a windowsill inside is good…you can sow as late as May but you will get smaller plants…but you should still get flowers.
*Sow in individual pots. Don't forget you won't need lots of plants. Sow you could just grow three or four in five inch pots…depending on your wants. Or sow more in smaller pots and pot up the chaps that germinate at a later date.
*Sow on their edge. This is important and easy. The seeds are large and flat. Don't bury them too deep, just cover them with seed compost.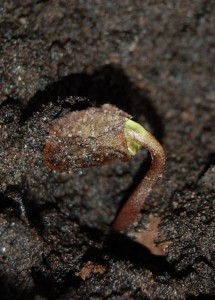 The above is Cobaea scandens that I sowed 8 days ago, on Valentines day. (It is the most advanced of the dozen or so I sowed)
*Stick them on a windowsill…or propagator if you have one…I don't myself (Thanks a bunch, Santa.)
*They will take three weeks plus to germinate. During this time whisper pleasing things to them in Spanish.
*I poke a little twig in the pot for our friend Cobaea scandens to grow up whilst it's getting the hang of this life thing…they appreciate this and do not forget your kindness
*Plant outside after the FROSTS HAVE FINISHED…this will be around Mid May for most of us…later for our Scottish chums.
* I tend to give mine about 50 cm between plants.
*Don't let the ground stay too dry for too long.
I will be sowing some this afternoon and shall publish pics of seed etc and will keep you updated of their progress. Why not 'Grow along with Benji!' I can send some seeds out for you this week…go on…you know you want to.
Have fun and keep us posted of your progress.
Kindest regards, your digital chum.
Benjamin