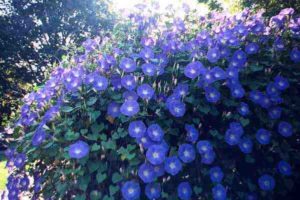 I sell four of my favourite climbers in the Higgledy shop. You would be forgiven for thinking that annual climbers have no place in the cut flower garden but I find them very useful.
The flowers themselves can be floated for devastating effect  in a shallow bowl with night lights…burn some incense too and perhaps a bit of chanting to get the neighbours worried.
I grow Ipomoea up pea netting up to about a metre, this way they also act as a 'mild' wind break and help protect some of my taller varieties of cut flower that may take a tumble when the gusts get up.
The large trumpet like flowers on this little baby are to die for…they are so blue they make your eyes water. An all round winner!
How to grow Ipomoea, Heavenly Blue.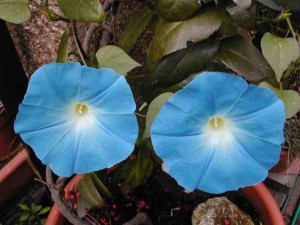 *I sow mine in modular trays. I sow some in March and some more in April. (I like having lots of them…friends love them too.)
*If necessary pop a little stick into the pot to give the chap something to cling on to.
*When the frosts have trickled off up north, put them outside in free draining soil.
*Space at least 10 cm apart
*Water regularly…think of them as wicks…there's a lot of surface area in those leaves!
*Note. These are toxic flowers…they may look good enough to eat but they will make you VERY sick.
Ben
Have fun!