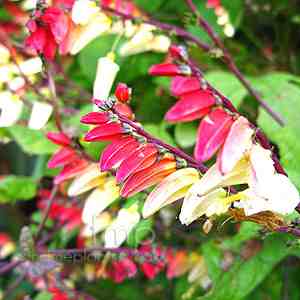 How can you possibly resist anything called 'Exotic Love'…ok you don't have to answer that.
Mina lobata or Ipomoea lobata is another of the wonderful annual climbers that we grow in the Higgledy Garden to brighten up our fences and broken down cars and to generally make us feel better.
It is a vigourous  annual climber that may give you flowers for four months. The flowers arrive a scorching scarlet and fade through gold to white…on numerous stems.
Annual climbers don't get the attention they deserve. They are so much fun to grow. Try them…you will never look back.
How to grow Mina Lobata.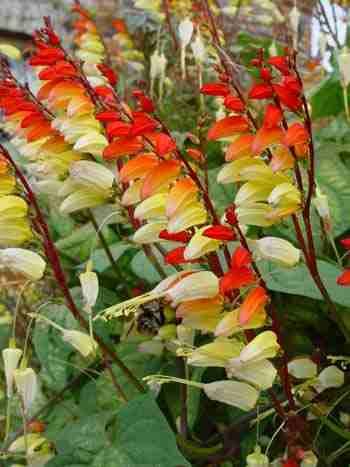 *Sow from March – May
*I find it best to sow in pots, use good quality seed compost or sieved home made compost.
*Plant out when all risk of frost has passed.
*Plant in free draining soil and water regularly
*Obviously being climbers they need something to climb. A shed…a fence…the old lady next door.
Buy Mina lobata here in the Higgledy garden shop. :)
Have fun!
Ben